As in previous years, the Blackpool Masonic Club will open its doors for the convenience of those attending the Provincial Grand Lodge and Provincial Grand Chapter meetings to be held on Tuesday 12 October 2021 at the Winter Gardens, Blackpool. Following the previous format, the Masonic club's facilities at the Masonic Hall, Adelaide Street, will be open from 9:30am.
The bar and lounge will be open all day for the sales of alcohol, tea and coffee, and other beverages and the club's acclaimed caterers, Dahlia's Kitchen, will be serving a range of delicious food and snacks throughout the day commencing at 9:30am, including breakfast, lunchtime and evening menus.
The club will also be offering an à la carte menu after the meetings for those diners who are unable to attend the formal festive board at the Winter Gardens or who simply wish to enjoy a relaxed meal with colleagues, friends or family members in calm and genial surroundings. Perhaps there will also be those Freemasons who merely wish to relax and unwind; all will be warmly welcomed. A large selection of meals and snacks will be served, all at very competitive prices.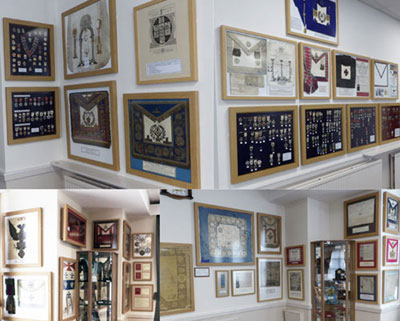 It also offers an ideal opportunity to browse around the Museum of Freemasonry to study the diverse range of Masonic artefacts, historic documents and regalia from around the world, spanning 100s of years of Freemasonry. Make a daily advancement in your Masonic knowledge while enjoying the warm hospitality of the Masonic hall.
Table reservations for dining can be arranged in advance by calling the Masonic Club on 01253 620585 and specifying the number attending and preferred dining time. (However, please note that any party who have reserved a table for dining and are more than 15 minutes late will have their table reservation cancelled as a high demand for the service is expected).
Directions to the Masonic Hall from the Winter Gardens:- 0.3 mile. 5 to 6 minutes' walk. Exit Winter Gardens at Church Street entrance and head east along Church Street toward Back Church Street. Take a right turn onto South King Street (Blue Room Pub on corner) and then first left into Adelaide Street. The Blackpool Masonic Hall is on your immediate left.
Contact details:
Blackpool Masonic Club
83 Adelaide Street
Blackpool
FY1 4LU
01253 620585
The Masonic club looks forward to Freemasons taking advantage of this opportunity and the facilities at the Masonic hall and assure all of a warm and welcoming reception.