The final of the West Lancashire Masonic Charity Bowling Tournament took place on 15July 2023 at the Fox Lane Sports and Social Club in Leyland; the organising hosts this year being the Wigan and District Group and the Leigh Group.

Despite the predicted wet weather, all 32 bowlers who had entered took part, representing 13 of the 17 groups in the Province. Although there were some interruptions from heavy rain showers, the enthusiasm of the players prevailed resulting in a successful day. The main competition for the prestigious Cowper Trophy was won by John Medcalf who beat Bill Richmond in the final. John was thrilled to be the winner after coming close for many years. Interest for all was maintained by the secondary competition for the McGibbon Trophy for those that had been knocked out in the first round. For the second year running this was won by Keith Carter, with David Anderson as runner-up.
The retiring Provincial Senior Grand Warden of the Province acts as the Tournament President, and this year it was the turn of Chris Taylor in that role to present the trophies for the main competition. Tournament Vice President and retiring Provincial Junior Grand Warden Sylvester During was unable to attend due to a family wedding. Other prizes were presented by Assistant Provincial Grand Master Duncan Smith and Tournament Vice Chairman Geoffrey Porter.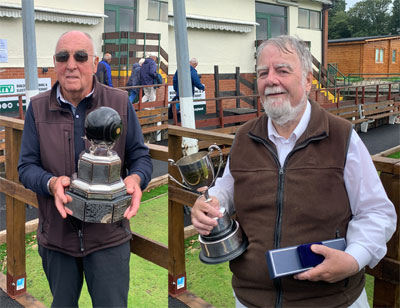 The winners of the various prizes were: Main competition, Cowper Trophy, winner – John Medcalf (Ormskirk and Bootle Group). runner-up – Bill Richmond (Lancaster and District Group), third – Doug Lace (Mersey Valley Group), fourth – Harry Jones (Southport Group), fifth – Gordon Evans (Furness and South Lakeland Group), sixth – Kevin Rigg (Furness and South Lakeland Group), seventh – Jack Stackhouse (Lancaster and District Group) and eighth – Jeff Brookes (Warrington Group). Secondary competition, McGibbon Trophy: winner — Keith Carter (Fylde Groups), runner-up – David Anderson (Warrington Group).
Two cheques for £1,000 were presented to the Tournament Chairman Harry Cox by the Wigan Group Chairman John Selley and past Leigh Group Chairman Len Hart. A further £240 was raised by the host group by way of a raffle.
The Tournament also raises money from the generous donations from lodges and chapters in the Province so the full total raised will become known later in the year. Harry thanked Assistant Provincial Grand Masters Peter Lockett and Duncan Smith for attending, also group chairmen John Selley, John Robbie Porter and Steve Jelly. Harry also thanked the Fox Lane Club for the many donators of the prizes and all those who had worked so hard to make the day a success. Next year's tournament will be held on 20 July 2024 and hosted by the Fylde Groups.