Well, the weather is starting to turn towards Autumn and the leaves are now falling from the trees.
October 2: This morning Maureen and I travelled northward up the M6 to Carlisle then across the A69 to Newcastle and Gosforth Park. Not to the races but to attend the Finale Festival Dinner for the Province of Northumberland 2020 Festival which had been postponed for 12 months. We stayed at the Gosforth Park Hotel where the evening Banquet and festivities were taking place. Almost 300 brethren and their ladies attended the event which was a great success achieving a total of £3,248,927 from their seven-year festival. We had a most enjoyable weekend returning home after breakfast on Sunday.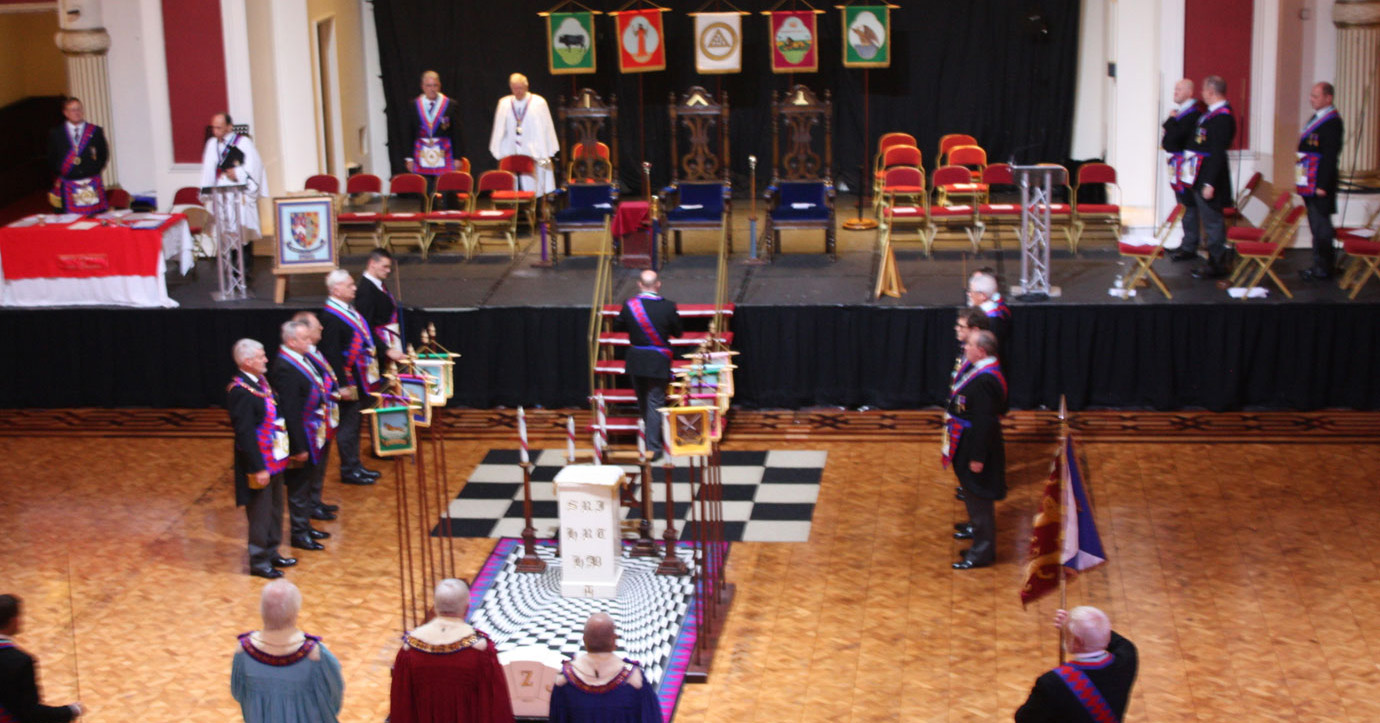 October 5: I travelled to the Office in Leyland this morning for my Craft cabinet meeting, which was attended by all my cabinet and we had a very informative meeting, following which I travelled back to Wyre Bank at Garstang for the installation meeting of Scorton Lodge No 5791 to witness Andy McClements Installed as the WM by Steven Parker. An excellent ceremony which was very well attended by 60 members and their guests. We enjoyed a good festival of St John before having to leave for our homeward journey.
October 6: This morning I travelled to New Brighton accompanied by Mark Matthews. We attended the Cheshire Provincial Grand Lodge Meeting. There were some 250 brethren attending including the ProvGM`s from East Lancashire, North Wales and the Isle of Man. A very enjoyable annual meeting which concluded with a two-course dinner. Quite a long but most enjoyable day.
October 7: Regrettably, Maureen and I had to travel to Helensburgh, in Scotland this morning, through the most terrible rainstorms that I have ever had to drive in. We were attending the funeral of one of my cousins, who had been quite ill for some time. Good to see and be with family even at a time of great sadness.
October 10: After attending our church in Morecambe, Maureen and I travelled to St Elphin`s Church in Warrington for the annual church service of the Warrington Group, where we were accompanied by members of the Order of Women`s Freemasons and enjoyed a wonderful service of thanksgiving before retiring to Warrington Freemasons Hall for tea, scones and cakes.
October 11: After a quiet and relaxing weekend I was off to Blackpool this afternoon to finalise arrangements for the Provincial meeting tomorrow at the Winter Gardens.
October 12: An early start this morning, so after a hearty breakfast I travelled with my deputy Phil Gunning to the Winter Gardens only to find a hive of activity with companions and brethren making preparation for the morning Provincial Grand Chapter meeting. Under the most difficult of circumstances, I believe we all enjoyed a good meeting despite our numbers being somewhat low due to the situation of COVID. It was good to see the many companions who had travelled to the meeting in order to receive their appointment to or promotion in the Royal Arch. Following the meeting we enjoyed a light lunch in the Spanish Hall, before returning to the Empress Ballroom for the Provincial Grand Lodge meeting in the afternoon.
Again, our numbers were much lower that at past meetings, but it was good to welcome those brethren who travelled to Blackpool to receive their honours. It was good to be back at the Winter Gardens for these two most important annual Provincial meetings and I thank all those who attended both our meetings, and trust that you enjoyed them. Next year we will I am sure be back to normal. After a long day I travelled home and enjoyed a really good night`s sleep.
October 13: This afternoon I travelled to Warrington, Winmarleigh Hall for the installation meeting of True Light Lodge of Friendship No 2963. Here we witnessed Tony Shadwell installed as master by John Rutland and Alan Clare in an excellent ceremony. There were over 70 brethren present and following the ceremony we enjoyed the culinary delights of the chef. A most delicious festive board followed by speeches and then unfortunately a long journey home which was hampered by the closure of the M6 from Preston to Lancaster, causing long delays.
October 14: A relaxing day with only a few matters to deal with. Then I attended Sandylands Chapter No 5702 in Morecambe this evening. A very welcome and relaxed convocation with only a small number of companions as there was no ceremony to perform, but it was good to be back at my own chapter for the evening.
October 15: A nice drive round Morecambe Bay this afternoon. I attended Thurston Lodge No 2525 at Ulverston. Past master David Wilson was installed by Martin Rigby in fine style, in the presence of some 76 brethren. I was presented with a wonderful donation for charity and then we travelled to the Old Mill Restaurant at Bardsea for the festival of St John. I was accompanied by Peter Schofield on his first meeting as an AProvGM. And a great evening was had by all.
October 17: This afternoon, both Maureen and I attended St John's Church in Morecambe for the joint Lancaster and District and the Furness and South Lakeland Groups, memorial service and thanksgiving. This was very well attended by brethren and ladies from both groups and following a moving service we enjoyed wine and a buffet with all who attended.
October 18: This morning I drove to Preston Masonic Hall for the annual Masonic Hall's Seminar. This was well attended by the members of the Halls Support Group and most of the halls in the Province were represented by their management. The day went well with speakers delivering their presentations to a crowded audience. I am quite sure that those attending found the seminar interesting and very informative.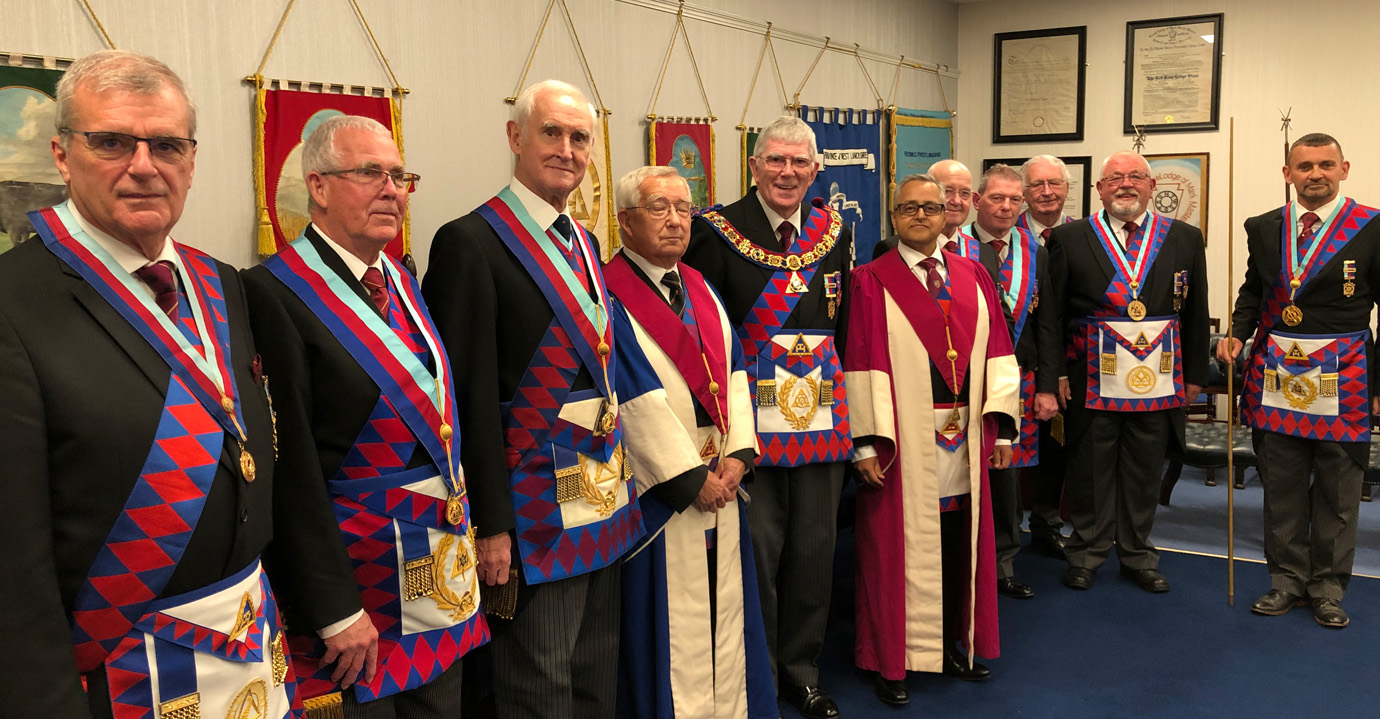 October 19: I spent two hours this morning on a Zoom meeting with a number of ProvGM`s from around UGLE. Discussing various matters of communication and marketing and the new Digital Marketing Campaign which is generating a good number of new enquiries for membership of the Craft.
In the afternoon I travelled to Southport for the installation meeting of Victoria Lodge No 2360 and witnessed Peter Wall installing Darren Middleton as WM. There were 70 brethren and their guests enjoying an excellent meeting and a delightful festival of St John. I attended Victoria Lodge as it was Liam Mawdsley`s, the Past Junior Grand Warden of the Province`s mother Lodge which I wished to visit and thank him for his term in office. A must enjoyable evening was had by us all.
October 20: This morning I drove to Leyland to meet with Peter Taylor and then we drove to Christleton Masonic Hall in Cheshire, for a meeting of the ProvGM`s from Cheshire, East and West Lancashire, North Wales and the Isle of Man. We meet at regular intervals to discuss matters from UGLE and our more localised matters.
In the afternoon I returned to Hindley Masonic Hall for the installation convocation of Corinthian Chapter No 2350.  On this occasion I was accompanied by the group chairman Geoffrey Porter. This was indeed an excellent installation and we witnessed Edward Atherton install Raj Kohli into the first principal's chair and Brian Rollins into the second principal's chair. Following that excellent ceremony, we all enjoyed a delicious dinner before heading home and unfortunately encountering the closure of the M6 once again.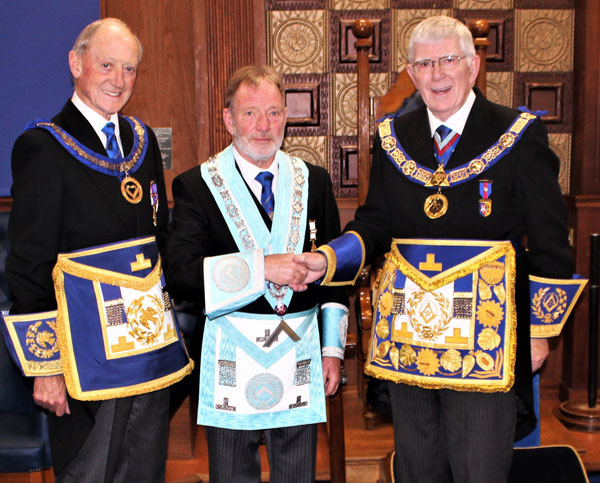 October 22: Bright and early this morning I joined Maureen for the weekly shop at Morrison`s then in the afternoon I travelled to Swinton Masonic Hall for the centenary celebrations of the Heart and Hand Lodge No 4109. 75 members and guests had the opportunity to witness the pageantry of this special meeting as my assistant Barry Jameson accompanied me together with the Senior and Junior Grand Wardens and a full Provincial Team. A most enjoyable meeting followed by an exceptional banquet to commemorate this milestone on the history of the lodge.
October 23: A relaxing day and then Maureen and I travelled to Bryn Masonic Hall for the Ecclesholme Gala Dinner, which was attended by 90 brethren and their ladies. We enjoyed a delicious meal and raised a good amount of money in support of the home. Well done and thank you to all who supported this Annual Gala Dinner.
October 24: Back to Wigan, St Matthew's Parish Church for the Wigan Group Annual Church Service led by Godfrey Hirst and attended by almost 100 brethren and their ladies. After the service we enjoyed tea and biscuits in the church hall then off to Bryn Masonic Hall once again for a most delicious Sunday dinner.
October 25: After breakfast this morning I drove to the office in Leyland for the group chairman`s meeting. It was attended by the group chairmen and one or two vice chairmen and we had a very interesting and informative meeting. I returned home at lunchtime and then at 5pm I drove to Preston Masonic Hall for the AGM of the Wardens of the Province (the Wardens' Club). We had our annual meeting and then enjoyed dinner in the company of our many colleagues.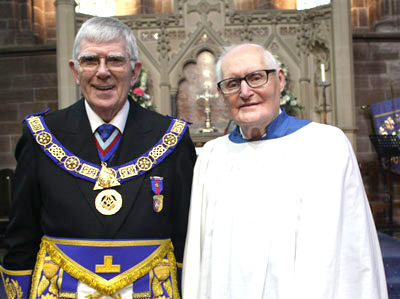 October 26: After a very leisurely morning I was off to Liverpool, Hope Street this afternoon for the installation convocation of Provincial Stewards' Chapter of West Lancashire No 8516. There were just over 100 companions at the meeting, and we witnessed Malcolm Warren install the Steward of the Chapter, John Roberts. An excellent ceremony followed by a delicious festival banquet.
October 27: This evening I attended my own lodge, Poulton le Sands No 1051, meeting here in Morecambe so no travelling just a good and relaxed evening out. It was the 50th anniversary celebration of Stewart McVernon and the lodge welcomed many visitors for this special celebration. We had the company of our new AProvGM Peter Schofield and our retired AProvGM Keith Kemp, and we learnt much about our celebrant in the presentation to him. An excellent evening was had by all who attended.
October 30: After lunch today, Maureen and I travelled to the Foxfield`s Country Hotel near Clitheroe for the Annual Provincial Mark Ball. It was well attended and we all enjoyed the ambiance of this country setting, a delicious meal, a live band and good company. We were all able to cope with the late night as the clocks went back this evening. After a good night`s sleep and a hearty breakfast we drove home through some torrential rainstorms and just chilled out for the rest of the weekend.
This has been a very busy month but a very memorable and enjoyable one.