On the morning of 1 October, I travelled to Leyland to our Provincial office for the Royal Arch Cabinet meeting which was attended by all my assistants together with my two deputies, the Provincial Grand DC and Provincial Scribe Ezra. We had a very informative and successful meeting which concluded early afternoon. I then returned home for a very short while before meeting with Keith Kemp and then travelling to Preston Masonic Hall for a meeting of the Lodge of Peace and Unity No 314. I attended the meeting to present David Winder with his past assistant's collaret. There were over 150 brethren present at the presentation and the delicious dinner that followed. An unusual but excellent evening enjoying yet another Masonic occasion.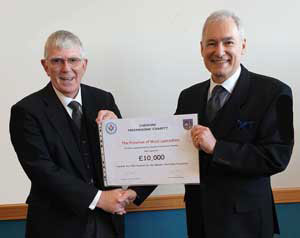 I had a very early start on 2 October as I was in Leyland for 8:30am to meet with Peter Taylor. We then drove to meet Phil Gunning and then off to New Brighton for the annual Provincial Grand Lodge meeting for the Province of Cheshire. The meeting was presided over by Stephen Blank and was attended by a really good number of Cheshire masons and many guests from surrounding Provinces. We enjoyed an excellent meeting and Stephen presented me with a cheque for £10,000 for our 2021 MCF Festival. Following the meeting we enjoyed a two course luncheon before the final toast of the afternoon and our return journey home.
The following day, I dealt with a few official matters and then set forth for Prescot Masonic Hall. I was attending the installation convocation of the Liverpool Dramatic Chapter No 1609. The ceremony was undertaken by Gary Adamson who Installed Jim Campbell and then Philip Gambrill and George Flynn. The new DC Don Fraser did an excellent job on his first installation. A most enjoyable evening and I was presented with a cheque for the WLFC and one for the 2021 MCF Festival. Companions thank you again for your generous donation.
On the 4 October I took the train to Manchester where I was having lunch at the Manchester Masonic Hall in Bridge Street. It was a delightful luncheon in the company of many friends and colleagues.
A quiet and relaxing weekend was ahead of us, so Maureen and I took time out to enjoy time together as it was too wet and windy to venture outside!
Back to the computer on 7 October to finalise several items for the Provincial Grand Chapter meeting on Wednesday. This afternoon I was off to Lancaster Masonic Hall for the installation convocation at Lancaster Castle Chapter No 5952.
October 9 was a big day today. Provincial Grand Chapter in Southport. An early start as I was at the Marine Hall for 9:15am. First duty to have a PSA test. Then we started to have individual rehearsals between the DCs and various acting officers of the year in preparation for the afternoon meeting. A full rehearsal of all taking part in the ceremonial took place at 12 noon, following which a light lunch with my distinguished guests was the order of the early afternoon. The doors of the chapter were opened, and the companions filed into their seats. It was so good to see the auditorium so full with over 550 present. The processions were formed by the DC`s team and we entered into the chapter to a wonderful welcome from all present. It was a long meeting involving the appointment and promotion of over 300 companions. After the meeting I enjoyed a very welcomed pre-dinner drink and then off to the dining room where 330 companions again welcomed me amongst them. We enjoyed a very nice dinner and excellent speeches before the conclusion of the day. It was then back off home after a fantastic day and I thank all those who attended and trust that they enjoyed the occasion as much as I did.
In the afternoon of 11 October, I travelled to Widnes for the installation meeting of Dormer Lodge No 4389. The installing master Eddie Coulthard delivered an excellent ceremony and installed Colin Graham in the chair for the third time. We were all delighted to have witnessed this ceremony which was followed by a delicious festival dinner. I was presented with a wonderful cheque for the 2021 Festival by the lodge and another by the Widnes Group Chairman, Neil Pedder.
I was off to Llandudno on 12 October for the annual Provincial meetings of the Province of North Wales. The Royal Arch in the morning and Craft in the afternoon. It was a long but very enjoyable day and I was accompanied by Kevin Poynton, Chris Butterfield, Barry Jameson, Colin Rowling and Peter Taylor. Both meetings were well attended by companions and brethren of the Province and many distinguished guests from other Provinces.
In the evening of 14 October, I attended my Mark lodge here in Morecambe for the installation meeting. It was very well attended and was an excellent ceremony. I was very impressed by the work undertaken by the brethren.
The following morning I set off to London by train to attend a PrGM's forum meeting and a dinner at Great Queen Street. It was attended by nearly all the PrGMs from around England. We had the great pleasure of dining in the ` Vestibule` at the entrance to the Grand Temple. This was an experience I can tell you! The lighting was wonderful and depicted all the magnificent architecture of the ceilings. The meal was excellent, I hope it can be repeated at the quarterly communications.
After breakfast in the hotel on 16 October, I walked back to Great Queen Street for the morning session of the forum. We were addressed by several members of the Board of General Purposes and then by the Grand Secretary, Doctor David Staples, who answered our questions. Following the meeting I returned to Euston for my train back home to Morecambe.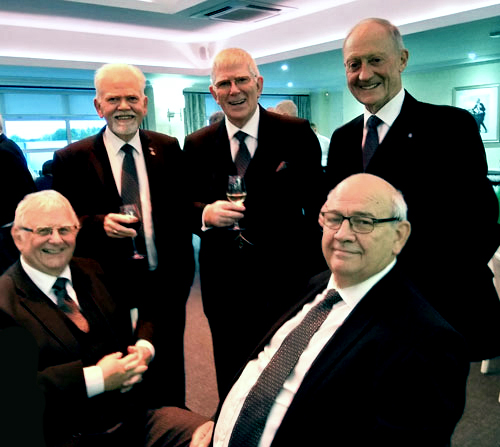 On 17 October I was off to Carlisle for the annual meeting of Cumberland and Westmorland. I was accompanied by Phil Gunning, Stewart Seddon, David Randerson, David Ogden, Barry Jameson and Peter Taylor. We had a great journey up the M6 in gorgeous weather, arriving at the Sands Centre in time for tea and biscuits prior to the meeting. It was well supported by the members of the Province and I was delighted to have been presented a cheque for £2,000 for our 2021 MCF Festival by the PrGM William Bewley. Following the meeting we travelled to the Shepherds Inn for the traditional Cumberland roast beef dinner. It was excellent and we all had a most enjoyable day in the company of many friends from other provinces. There was a relaxing few days over the weekend.
I caught up on some paperwork in the morning of October 21. before setting forth for Southport. This evening I was attending the installation meeting of Scarisbrick Lodge No 2295.  Tom Holt took the chair and installed Cameron Watson, a joining member from Adelphi Lodge No 6819, who had been in the chair some 15 years ago. It was an excellent ceremony and the working tools were delivered by young and new brethren of the lodge. A great evening had by all who attended.
On 22 October in the morning I travelled to the Provincial office in Leyland for the group chairman`s meeting. It was a full house with all the groups being represented by their chairmen or vice chairmen. A very interesting and fulfilling meeting, which I hope we can expand upon and fulfil our further expectations for the Province.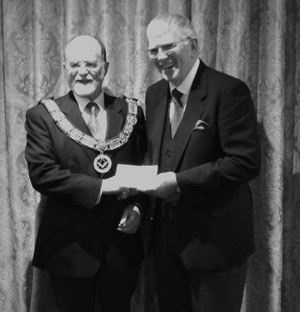 More paperwork in the morning of 23 October. But this evening I took the very short drive to Derby Street in Morecambe for my own lodge meeting. Poulton le Sands Lodge No 1051 were having a golden aniversary celebration for Bryan Fredrick Milner and the meeting was presided over by Keith Kemp. 71 brethren attended to support Bryan and we had a wonderful history of Bryan, who has been very involved with local affairs, associations and charities for many years. A very enjoyable evening for all who attended.
In the afternoon of 24 October, I travelled to Woolton Golf Club for the installation meeting of Derby Lodge No 724. I was accompanied by Kevin Poynton and Frank Umbers, Sam Robinson, John Lee, Andy Whittle and Malcolm Bell together with many acting Provincial grand officers. We witnessed an excellent ceremony conducted by Stephen White who installed Graham Fairley. Following the ceremony, we had a most delicious `Festival of St John` dinner before having to return home in the most horrendous rainstorm ever whilst travelling north up the M6.
Quite a busy day with my paperwork on 25 October before departing late afternoon with Maureen for our journey to Widnes. We picked up Paul and Hazel Broadley in Lancaster and then had a very good journey southwards down the M6 arriving in Widnes at 6:30pm. We attended the Ecclesholme Gala Dinner which was hosted by Neil Pedder and the Widnes Group of Lodges. 91 brethren and their ladies joined with us to enjoy a most delicious gala dinner and helped to raise over £1,000 for the Friends of Ecclesholme. A fantastic and very relaxing evening in the company of many friends. Thank you to all who supported this event in order to help provide some further comfort to those in need.
I met with Keith Kemp at Lancaster in the morning of 28 October and we took to the M6 once again and travelled to Preston, Saul Street for the annual Masonic Halls Seminar. This meeting was very well attended, and I believe all Masonic halls were represented. There was a very good agenda and the speakers were excellent. I trust that all who attended benefited by the time spent at Preston. After returning to Morecambe I travelled back with Maureen and picking up Tom Blackburn on the way to Manchester where I had been invited to attend Social Lodge No 62, meeting in Bridge Street for the 60th anniversary as a Freemason, of Warwick Ross Davenport. The ceremony was presided over by Sir David Trippier and it was a great pleasure to meet with many brethren from the province of East Lancashire. After a relatively short ceremony we adjourned to enjoy a most delicious banquet, before returning home after a wonderful occasion.
The morning of 30 October was spent replying to emails and attending to some further paper work. Later this afternoon I travelled to Garstang, Wyre Bank Masonic Hall for a meeting of Garstang Lodge No 6633, who were holding a gourmet dinner, and what a delicious dinner it was. I was presented a cheque to Prostrate Cancer from the master and brethren of Garstang Lodge.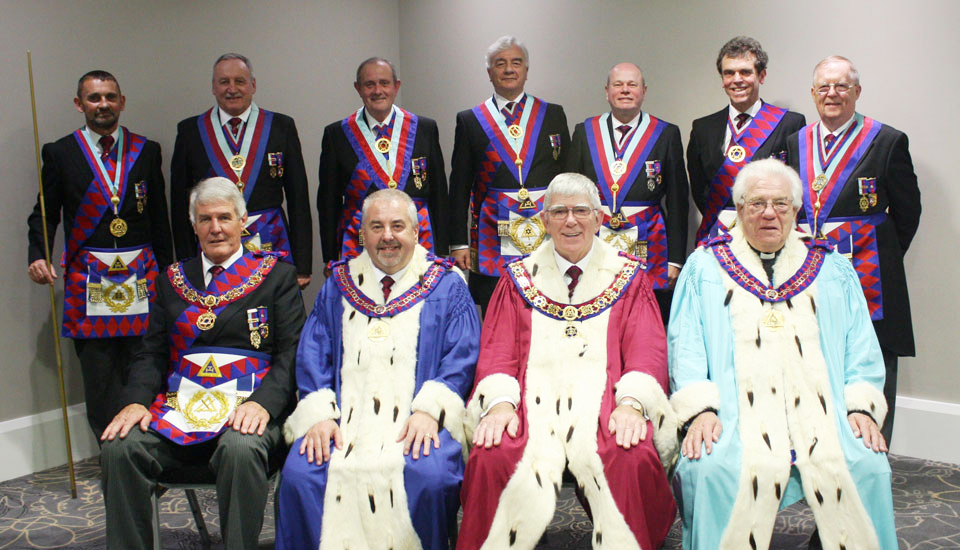 Well it has been a busy but very pleasurable month of Masonic enjoyment. I hope that you and your families have enjoyed your Masonic activities as much as I did.