Preston Guild Lodge No 4408 are preparing for their centenary celebration in October and the lodge has been fortunate enough to attract a number of new members. However, with the centenary fast approaching, it was clear that there was too much work to do so that all of our new members would be master Masons by the centenary meeting and be able to take a full part.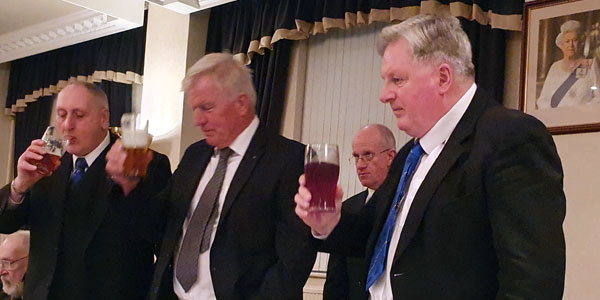 Enter Royal Preston Lodge No 333 and Ingol Lodge of Saint Margaret No 8544. Both lodges agreed to help Preston Guild Lodge by conducting the second degree ceremony of passing. Both of these lodges meet on the same night. A quirk of fate meant that both lodges offered the same date for the ceremonies.
Some quick thinking by the directors of ceremonies from all three lodges meant that a joint festive board was agreed following the ceremonies in each lodge. Preston Guild Lodge members divided themselves between the Royal Preston Lodge and Ingol Lodge of Saint Margaret meetings so that the candidates were well supported. Royal Preston Lodge delivered a very sincere ceremony for Joey Sahota and Ingol Lodge of Saint Margaret were equally sincere with the ceremony for Boniface Ogbonna. Both enjoyed their next step in Freemasonry.
The three lodges then joined together in the banqueting room for an excellent meal to celebrate the occasion. At the meal, the work was shared between the masters of the three lodges; Peter Caunce for Royal Preston Lodge, Gowan O'Hagan of Ingol Lodge of Saint Margaret and Ian Greenwood for Preston Guild Lodge.
Ian Greenwood thanked the members of Royal Preston Lodge and Ingol Lodge of Saint Margaret for their valuable assistance to Preston Guild Lodge and commented on what an excellent night it had been for Preston Freemasons and what a great night at Preston Masonic Hall. Indeed, it was a very special occasion.