Preston Guild Lodge No 4408 were delighted to welcome Boniface Ogbonna as a new member of the lodge. Despite the WM Ian Greenwood having to isolate due to COVID, the lodge demonstrated commendable stoicism to ensure that the new candidate was not let down or his initiation delayed.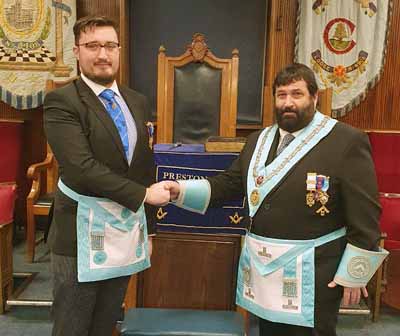 Immediate past master Tim Horton stepped in and delivered a fine ceremony. Fortunately, one of Tim's last acts as master in his own year was to perform a first degree ceremony, so it was just a refresher that he needed.
Prior to the initiation ceremony, Tim welcomed a new joining member, Alistair McIntyre. New is possibly pushing the definition. Alistair has been a constant presence in the lodge since the lodge reopened from lockdown in August 2021. He came into Freemasonry through the university scheme with the Lodge of Hope No 302 in Bradford. During his time there he rose to the office of junior warden. Alistair brings some welcome ready-made skills to Preston Guild Lodge.
Boniface served in the British Army within the Royal Logistics Corps. Since leaving the army he has embarked on a new career as a nurse apprentice working with Lancashire Teaching Hospitals Trust across Chorley and Preston hospitals. He is aiming to specialise in mental health when fully qualified.
In the course of the ceremony, Joey Sahota, who was only initiated in September 2020 gave the explanation of the working tools of an entered apprentice with considerable confidence. The charge after initiation was delivered with passion by Richard James, a true stalwart of the lodge.
Boniface is excited about taking his first steps into Freemasonry. He has a curious mind and is keen to learn more and become fully involved in the lodge. He was congratulated in the lodge room by the Preston Group Membership Officer Simon Wright, who was deputising for the group chairman.
This is Preston Guild Lodge's centenary year. Another candidate is being prepared for initiation and the lodge has an exciting programme of activities running through to the centenary celebration, with the Provincial Grand Master attending the special meeting in October.