Starting on the 1st of July 2023, Billy Walmsley of Preston embarked on an emotional sponsored solo cycle ride to Italy in honour of his younger brother who sadly died from leukaemia during the COVID-19 pandemic.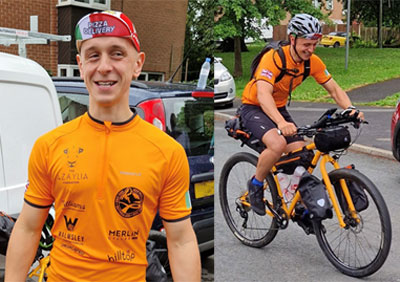 Massimo was just 21 years of age following the diagnosis of a rare form of the condition. Despite a successful bone marrow transplant, Massimo suffered a relapse and did not recover. After learning about Billy's quest, a number of Freemasons for the Preston Group decided it was a very worthwhile cause and offered some assistance to Billy.
For a considerable time, Massimo was alone in Christies Hospital as COVID visiting rules restricted access on the wards. Billy is riding to Italy on his own to represent the fact that Massimo was alone for much of his treatment.
The paternal side of the family originates from Pescara in the Abruzzo region of Italy. It had always been Massimo's hope to visit his roots one day. Billy is now enroute to Pescara in honour of Massimo and as he put it: "For Massimo to see Pescara through my eyes." Billy said: "I have never met anyone as strong and courageous as my brother. For me he is, and always will be, an inspiration." That is brotherly love.
Whilst taking part in this solo ride, Billy will be raising money for The Azaylia Foundation. Massimo was treated at the Teenage and Young Adult Ward at Christies and he became aware of the case of Azaylia Diamond Cain and what she was facing at a young age. The Foundation is committed to advancing early diagnosis and new treatment availability in the UK as well as supporting children fighting cancer by helping them access treatments not currently available on the NHS.
Billy has set up a fundraising page on GoFundMe for anyone wishing to contribute through on https://gofund.me/14471403 He is aiming to raise £5,000 which seems small considering his 1,800-mile effort. Hopefully he can raise much more!
The Preston Masonic Group have been proud to support Billy by providing him with a comprehensive GPS system to fit to his bike and help him find his way as efficiently as possible. The group send their best wishes for a safe journey and pay tribute to the way he is honouring his brother, Massimo.
Billy has also had support from, Merlin Cycles, Williams Handbake, Walmsley Tree Contractors and Dedicated Supplements.