Preston Community Network (PCN) is an umbrella organisation which represents and assists a wide range of voluntary, community and faith groups which operate within the city of Preston.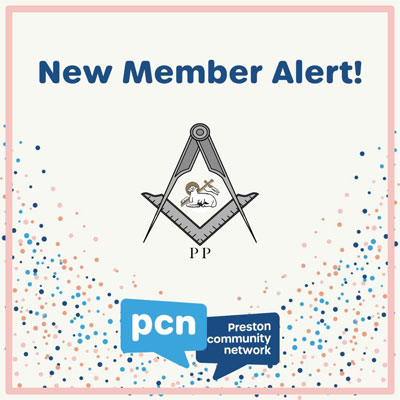 The network provides an excellent interface between local voluntary groups, charities and service organisations. Over 100 of these local groups are members of Preston Community Network. Their most important role is to act as a central point of support for their members. Just as importantly, they also have channels of access to bodies such as Lancashire County Council and Preston City Council.
Preston Group, under their social media name of Preston Masonic Group, have had the honour of being accepted as a new member of this very important organisation. Engaging with our communities of one of the three great pillars at the heart of the UGLE Seven Year Plan. Lodges within the Preston Group have individually worked with a number of the PCN members. Bringing the group into the membership widens the opportunity for all Preston Masons to become better engaged in the greater Preston Community.
The Preston lodges and Preston Group have a fine record of supporting a significant number of the local volunteer led charities who are PCN members. There is now the opportunity for Preston Masons to play a bigger role.
Preston Masonic Hall has the capacity to become a hub of activity for the different groups who have no real venue to organise events. PCN themselves run many training courses and events. The hall has a multitude of room layouts that will be useful.
The leaders of PCN will visit the hall on a number of occasions. The first is to see what can be offered. It is probably a resource they need to use. They will also meet with the lodge and chapter charity stewards. PCN can act as a conduit for identifying charities in particular need.
Membership of PCN can only improve the public perception of Freemasonry and help to restore Masons to the civic society they so deservedly occupied many years ago. That can only bode well for attracting new members.