Preston Community Network is an important umbrella organisation supporting over 100 community organisations in Preston. These include local charities, community interest groups, volunteer organisations and many more. Earlier in the year, the Preston Group were admitted as members in recognition of the charitable work Freemasons in Preston do.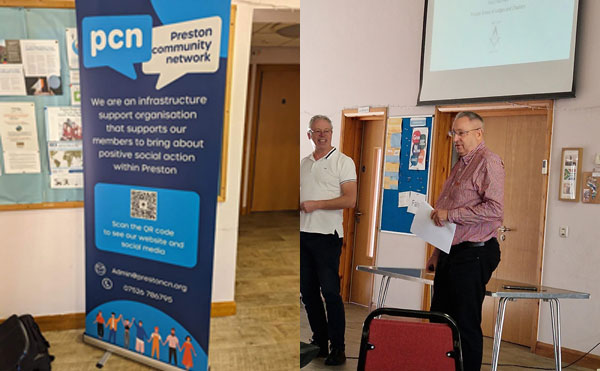 Preston Community Network host regular network events bringing together many organisations from its membership. This enables them to share information and network in order to better serve the community. As a member of PCN, Preston Masonic Group was invited to present to the latest Network Event.
Preston Group Vice Chairman David Parker was delighted to oblige. He gave a comprehensive talk about the background of Freemasonry and along the way dispelled a few myths and misconceptions. This went down very well with the audience and went a long way to changing mindsets.
He then went on to explain Preston Masons commitment to the community. That commitment goes back a long way. Masons were active and very visible in the design and construction of the Harris Museum. Prior to the birth of the NHS, Masons donated to Preston Royal Infirmary.
The support for local charities by the lodges and chapters today was explained alongside the work of the Masonic Charitable Foundation and the West Lancashire Freemasons' Charity. Representatives from Emmaus Preston and the Preston Street Pastors spoke up to tell the group that they had benefitted from funds from MCF and lodges. The charitable credentials of Preston Masons were firmly established.
Preston Masonic Hall has a range of facilities that could be used by the wider community. It is the aim to become a genuine community asset. The hall has a variety of meeting rooms in different sizes. It has the capacity to help so many groups. These were explained to the meeting and a number of organisations have expressed interest in using the hall. This brings more people into the building and could generate significant outside business.
David was very busy after the meeting having discussions with a number of the representatives of the organisations. Follow up meetings have been arranged with some to explore the needs of some charities and also to visit the hall. David was also asked by a number of the community organisations if he could do more talks about Freemasons which he was happy to agree to.
Some of the attendees had family members who were Masons in the group. They enjoyed learning more and understanding how they had spent their time as Masons. There were many compliments about how open the Masons had become and how we were being seen as true partners in the local community. It would seem we are doing a good job working on that Third Pillar of the UGLE Plan.