At a meeting in November 2021, Past Provincial Grand Master for the Province of Cumberland and Westmorland Norman Thompson gave an address at Silverdale Lodge No 6926 to belatedly celebrate the 50 years anniversary of Peter Mason's initiation into Freemasonry. Norman stepped in to give the address when Deputy Provincial Grand Master Philip Gunning was taken ill with the COVID virus. The lodge was full to capacity with attendance by 16 grand officers from the Provinces of West Lancashire, Cumberland and Westmorland and Lancaster Group Chairman Neil McGill.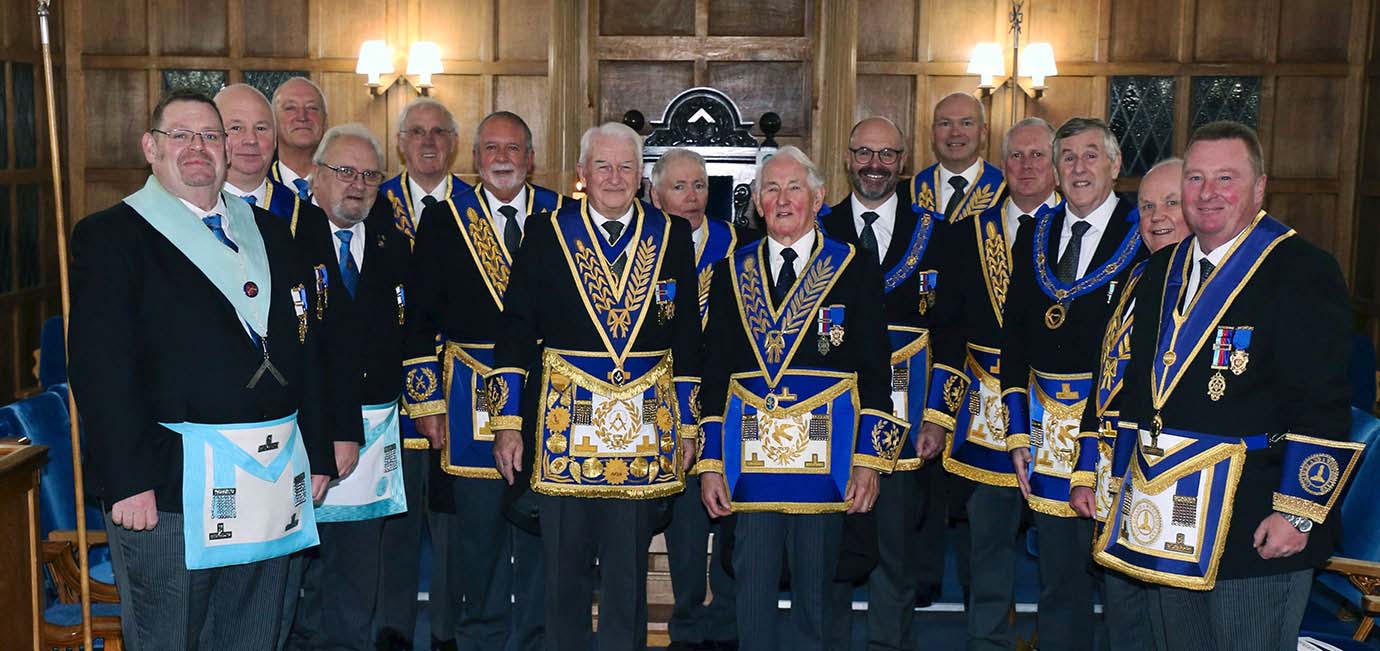 Norman stated: "During the course of the evening I will look back at time past and present and that this will be an evening of nostalgia. Time can also be celebrated in many ways, birthdays, special anniversaries for individuals, family and friends. In our daily lives as our Masonic teaching reminds us when we look at the flooring of our lodges we see the light and shade of time. The good times and times when we have to deal with misfortune. Our time this evening is one of the happy events in our Masonic lives as we share with a friend and brother a lifetime of service to family, the community and Freemasonry."
Peter was born in 1941, a time of turmoil, not only for our country but throughout the world as the Second World War was intensifying. In January of that year, President Roosevelt sent his lend-lease Bill to Congress and in March Congress approved the Bill. On 10 January HMS Southampton was sunk off the coast of Crete. The British Eighth Army captured Benghazi in February and entered Ethiopia a month later. The resumption of the Blitz on London began on 19 March. Having taken Benghazi in February the British Army abandoned it in April. In April there were heavy air raids on Coventry. In May the House of Commons was damaged by bombing; Rudolf Hess landed in Scotland; German paratroopers invaded Crete and HMS Hood was sunk by the Bismarck. Following the raid on Pearl Harbour on 7 December 1941 the British and the United States declared war on Japan.
Peter was born in February 1941 in Halton, Lancashire where he has lived all his life. He attended Halton Church of England School and then went on to St Luke's School at Skerton. Peter excelled at swimming and represented Lancaster and Lancashire schoolboys.
Peter was a keen member of the Boy Scouts and represented Lancaster City and District Scouts at front crawl and backstroke. He thoroughly enjoyed his time in the scouts and was one of six scouts selected to represent the county at the Jubilee Jamboree in Sutton Coldfield in 1957. Peter became a Queen's Scout soon after and attended the St Georges Day Parade at Windsor Castle. He was also lucky enough to go on several expeditions to Italy, Germany and Austria. Peter was for a time, chairman of the local scout group and only gave it up when he became the Group Chairman of Lancaster and District Group in 1988.
Peter was very good academically and in his final year at junior school, he took the 11 plus exam. It was his mother's wish that he went to grammar school, did well academically with the ultimate aim of training to be an accountant. Peter had blacksmith's blood in his veins however and made up his mind that he was not going to go to a grammar school, nor was he going to be an accountant as it would mean wearing a suit and a tie and working in an office. Peter didn't pass the 11 plus exam and instead attended Ripley School. At the time, Ripley was solely a boys' school and throughout his time at the school Peter was always one of the top four pupils in his class.
At the age of 13, Peter became a member of Storeys of Lancaster Works Brass Band playing the cornet. His ability was such that he progressed to become the deputy principal cornet of the County Youth Brass Band at the age of 16.
On leaving school, Peter's membership of the works band secured him a job with the company, where he trained as an engineer. Peter studied at night school and passed the Mechanical HNC and Electrical ONC exams.
Peter's ability was soon realised by the management and he was promoted to work in the drawing office where he had to wear a suit and a tie! Peter continued to play cornet in the works band and eventually became principal cornet, band manager and secretary, which he held for 10 years. Peter became one of the youngest staff engineers at Storeys.
In 1960 Peter met Joyce when he was 19 years old and after a courtship of six years they were married at Torrisholme Methodist Church on 2 April 1966. Joyce and Peter have two children, Christopher James and Sarah Jane. They have been blessed with two grandchildren, Alfie James and Aimee Jayne, who are the son and daughter of Christopher and his wife Lindsay.
In 1974 at 33 years old, Peter was poached by Hornsea Pottery to join them as Company Chief Engineer in Lancaster. This move presented him with many headaches and long days and nights at work. There was little thought at Head Office as to how the new factory was going to be set up; new machinery that didn't work, and a lack of skilled labour. However he didn't let such minor issues worry him. On the contrary he accepted them as a challenge and relished in it. Peter's hard work paid off and the factory went into production with new work methods for moulding, firing and glazing, so leading to a better production output than was ever imagined. Peter is acknowledged as the inventor on four British patents in the pottery industry.
Unfortunately Hornsea Pottery went into receivership in 1984 leaving Peter unemployed. He went to work in the morning to a job with a company car, and came home with absolutely nothing.
Peter joined Ajax, owned by Norwich Union as a lift and crane surveyor, where he worked his way up to become the Engineering Manager for the North of England, Scotland and Ireland. Peter was responsible for over 100 surveyors and a turnover of £9,000,000. Norwich Union then sold Ajax and made all the management team redundant. On this occasion however he fared much better; his redundancy came with a very good 'golden handshake'.
Peter wasn't unemployed for long and he joined EMSS, a small inspection company as a freelance surveyor. He was soon given the responsibility of looking after the North of England and the whole of Scotland. Peter produced the company COSHH Training Manual and trained the company's surveyors. Working together with an IT engineer he also produced various programmes and the main database, which enabled the surveyors to submit timesheets; produce client's reports; client's details and a list of all their plant items.
Peter was initiated into Silverdale Lodge on 6 October 1970 and served in every progressive office in the lodge. He was installed as WM in 1982. During his year in office an extension to the lodge, incorporating the kitchen, ladies and gents toilets, was commenced. The extension was completed in 1983 with the work being carried out by the lodge members and Peter himself carrying out the electrical installation.
In 1983 Peter took on the role of group bowling secretary, a position he held for 11 years until he finally stood down in 1995. In 1985 the Lancaster and District Group hosted the Provincial Bowling Tournament final, which was held at Lancaster Bowling and Tennis Club. This proved to be an ideal venue as they were able to provide the two greens necessary due to the number of bowlers involved. The weather was perfect; the event was a success and the catering, which was provided by Joyce and their daughter, was appreciated by all. The event raised the sum of £6,500 which at the time was a record.
Peter was appointed a Provincial Grand Steward in 1986 and in 1988 Peter became lodge secretary, a post he held until 1991. During his time in office, Silverdale Lodge was not in a healthy state financially and Peter put together a recovery plan to restore the lodge finances. He registered Silverdale Lodge as a Charity which enabled the lodge to claim rate relief on the building. In addition the lodge was able to reclaim the tax paid on the members' subscriptions, which continues today, claimable on a biannual basis.
Peter is a founder member of Plantagenet Lodge of Installed Masters No 9357 and was the first junior warden and in 2014 he was installed as master of the lodge. Peter Mason has received numerous appointments and promotions in the Province of West Lancashire as well as receiving high ranks in United Grand Lodge and the Supreme Grand Chapter of Royal Arch Masons of England.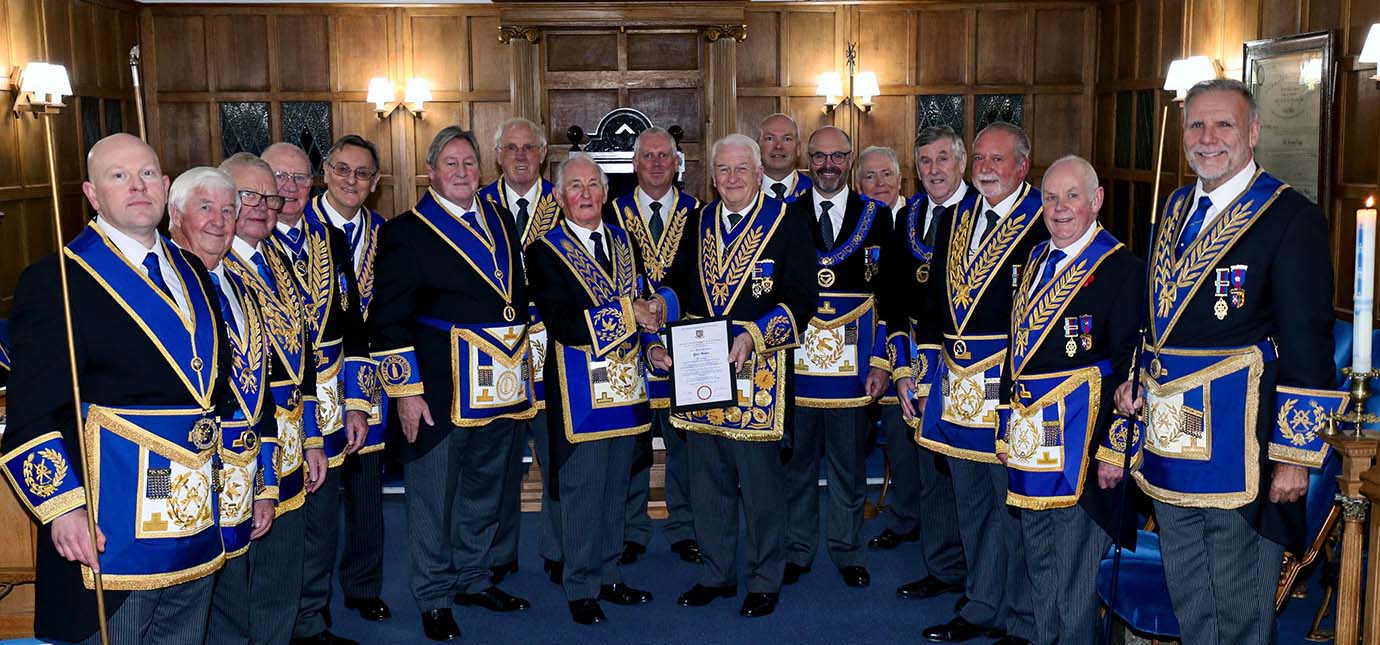 In 1990 Peter was promoted to Past Provincial Junior Grand Warden in the Proivnce of West Lancashire. He is also a member of the Province of Cumberland and Westmorland and was appointed Past Provincial Junior Grand Warden in 2014. Peter will soon celebrate 50 years in both the Mark and Royal Arch. In 2013 he was appointed the Assistant to the Provincial Grand Principals and in 2014 he was appointed Deputy Grand Superintendent in the Province of Cumberland and Westmorland.
In 1990 the Grand Master, His Royal Highness The Duke of Kent appointed Peter to the grand rank of Past Assistant Grand Director of Ceremonies and in 2006 he was promoted to the high rank of Past Junior Grand Deacon.
In 1997 in the Supreme Grand Chapter of Royal Arch Masons of England Peter was appointed to the grand rank of Past Grand Standard Bearer; in 2007 he was promoted to the acting rank of Second Assistant Grand Sojourner followed by further promotion in 2015 to the rank of Past Grand Sword Bearer. In 2019 he received promotion to Past Grand Scribe Nehemiah.
During the recent lockdown, Peter produced a series of weekly questions and answers. This was done initially for the Province of Cumberland and Westmorland but it wasn't long before it spread far and wide, including the Lancaster and District Group. It proved so successful that Peter was asked to produce it in a booklet form. The booklet has proved to be very popular and Peter has sold numerous copies; the proceeds of which have gone towards the Cumberland and Westmorland Masonic Charitable Foundation 2027 Festival.
Over the years Peter has also produced numerous guidance booklets and presented many lectures throughout the United Kingdom. A full Masonic life brethren and one to be proud of. For anyone to be an active member of any organisation for 50 years is an achievement and one that should be recognised. "Well done thou good and faithful servant."