A rather special celebration was arranged on Wednesday 2 March 2022, to honour Peter Muriel, a special, highly respected gentleman of Freemasonry who was celebrating 50 years as a member of the Royal Arch.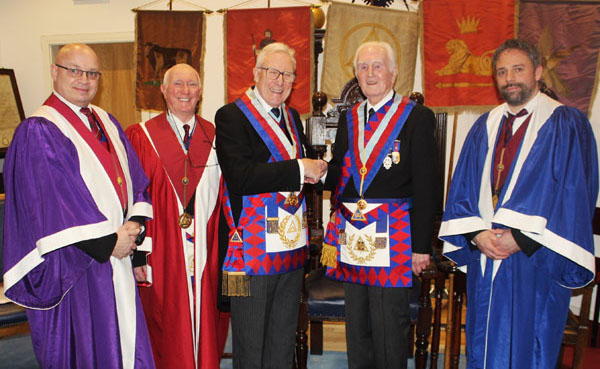 The ceremony had been deferred from 2021 due to COVID, but Peter was in fine form despite that. Members and distinguished visitors alike of Foundation Chapter No 5394, meeting at Urmston Masonic Hall were delighted to receive Ian Higham, Past Third Provincial Grand Principal, accompanied by South Eastern Group Secretary Eddie Wilkinson along with fellow grand and Provincial grand officers and honoured guests.
The chapter business being dealt with quickly and efficiently by first principal Phil Rampling, the special part of the evening arrived as Ian accompanied Peter into the room in ceremonial form and was presented to Phil and second and third principle's Darren Gregory and Christian Hansford.
Phil having welcomed Ian and his attending officers and immediately offered him the sceptre of his office which on this occasion Ian accepted. He then occupied the first principal's position and addressed the companions, thanking the chapter for their very kind welcome and explaining what a great pleasure it was to be with the members and visitors to share this very unique and auspicious occasion.
Ian began his presentation by indicating that his office of Past Third Provincial Grand Principle carried a number of onerous responsibilities and duties, but also a number of great privileges, and the prospect of being able to officiate at such jubilee celebrations was, without doubt the amongst best.
Ian, after ensuring that the celebrant was suitably seated in comfort, began the telling of Peter's life both in and out of Masonry. The evening, David said, marked the very special 50th anniversary of a very special companion, Frederick Charles Peter Muriel PGStdB or Peter as he is affectionately known to all.
Peter was born in December 1934, a time when King George V was monarch and Ramsay MacDonald was Prime Minister. In addition to Peter's birth, 1934 was memorable for a number of other reasons. Driving tests were introduced, Alcatraz became a Federal Prison, Meccano began to manufacture the famous Dinky Toys and Stanley Mathews gained his first cap for England. Other well know people born that year were, Henry Cooper, fashion designer Mary Quant, actors, Tom Baker, Timothy West, Maggie Smith and Judi Dench to name but a few. It also saw the birth of the first man in space, Yuri Gagarin.
Peter was born in Stretford and after attending a local preparatory school, won a scholarship to attend Stretford Grammar School which was no mean achievement. Following his education, he joined the well-established family business, 'Fred Muriel Carpet Fitters'.
Peter's work in the family business was interrupted in 1955 when, at the age of 21 he entered National Service, ultimately serving as an NCO Medic in the RAF. In 1957, on completion of his two years he returned to the family business until, when Peter was in his early 30's, he suffered from severe back pain which resulted in wearing a steel corset to control his condition and he could no longer work with the tools of his trade so his role changed to management and he eventually took over and ran the business renaming it Fred Muriel & Son.
Following his retirement, Peter served the community by becoming a volunteer patient transport driver for some 11 years, transporting patients across the whole of the north west and beyond.
During his youth, Peter was a multi skilled athlete, playing goalkeeper for his school and Manchester United Juniors, he is a former Club Captain and Vice President of Stretford Cricket club, he was also a keen badminton player and golfer. Peter also was a member of the local cubs and scouts. To this day he is the Vice president of Market Deeping Cricket Club in Peterborough.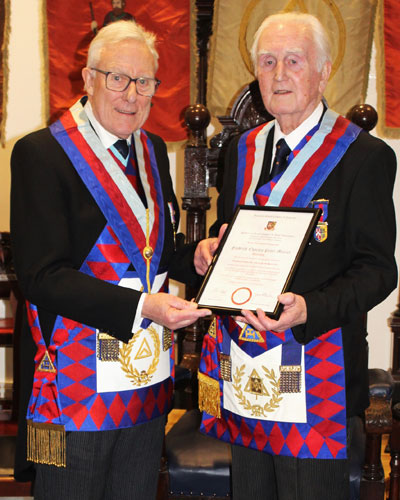 Amidst his work, National Service and sporting activities, Peter clearly found time for a social life because in August 1958 he married Sylvia June Musgrave at St Matthew's Church Stretford and in August 2022 they will be celebrating a magnificent 64 years of marriage. They have two daughters Pamela Ellen and Julie Elizabeth and three grandchildren, Abigail, Lewis, Jordan and Mila, all of whom, Peter and Sylvia are extremely proud.
For those who are not aware, in 1948 Peter's father Fred was a founder of Great Stone Lodge 6737 in Stretford, so there was little surprise that following a proposition by his father, seconded by F Lathom, a friend of his father and senior founder of the lodge, at 23 years old Peter was proudly initiated on 26 November 1957.
To give some perspective on life in 1957, most houses had outside toilets, only one in five had a washing machine and a mere one in 20 had a refrigerator. The average house price was just over £2,000, a new car was around £650, petrol was 5s 1d a gallon, (in today's prices, 5.5pence per litre). Which all sounds very good until you find that the average gross wage was just over £820 per annum. Despite all this, 1957 was deemed by the then Prime Minister Harold Macmillan (and indeed later confirmed) to be the happiest year of the 20th century. One thing for sure, it was a very good year for Freemasonry when Peter was initiated.
Following Peter's passing and raising he progressed through many lodge offices ultimately becoming master in 1969. His flair for ritual was soon identified as within two years he was appointed and invested as the lodge ADC. A long apprenticeship followed until 1981 when Peter finally became Director of Ceremonies, an office he served with pride and distinction for some 15 years. He continued to serve the lodge as chaplain for a further seven years.
Peter's contribution to Masonry did not just remain within his lodge, he was the group representative for the Royal Masonic Hospital from 1963-1984 and RMBI Representative for the 1981 Festival. In 2006 Peter was honoured to be the final master of Great Stone Lodge before the amalgamation of this very fine lodge in 2007.
Peter's outstanding contributions to masonry did not go unnoticed. As early as 1982 he was appointed to Provincial grand rank with the acting office of ProvAGSuptWks by the then Provincial Grand Master Alan Fletcher Ferris. Again in 1987 he was further promoted to the very high rank of PPJGW again by Alan Ferris. The final crowning glory came, when 10 years ago, on the occasion of his 50th celebration, former AProvGM Geoffrey Bloch had the great pleasure, on behalf of the late ProvGM Colin Penty Wright, of promoting Peter to the very special rank of PPSGW.
Peter was exalted into Royal Arch joining Foundation Chapter in March 1971, becoming first principal in 1980, later serving a combination of no less than 20 years as ADC and DC. David Poppitt, scribe Ezra of the chapter then read the minutes relating to that Initiation meeting.
Peter made steady progress through the chapter becoming third principal in 1978, second principal in 1979 and third principal in 1980. Again, his contributions to the Royal Arch were readily acknowledged by Grand Superintendent Alan Ferris when in 1988 he conferred on Peter his first Provincial grand rank of PPGSoj and just seven years later he received a promotion to the very high rank of PPGScribeN.
Clearly Peter's contributions to Freemasonry both in Craft and Royal Arch have been remarkable, particularly in the South Eastern Group, but it doesn't stop there! In 2005 Peter and Sylvia relocated to Peterborough to live nearer to their daughter Pamela. This was not however a time for Peter to sit back and relax as within a year or two he joined a local Lodge, St Pega Lodge 8317 in which he served as chaplain for a period of time.
Not stopping there, around the same time he also joined Hereward Chapter No 1232 in the Province of Lincolnshire. As in the Craft, his liking for ceremonials has resulted in a combination of no less than 20 years as ADC and DC in the chapter. In 2019, Peter received a letter from the Provincial Office of Lincolnshire awarding him the wonderful first appointment to PPSGW, a magnificent achievement!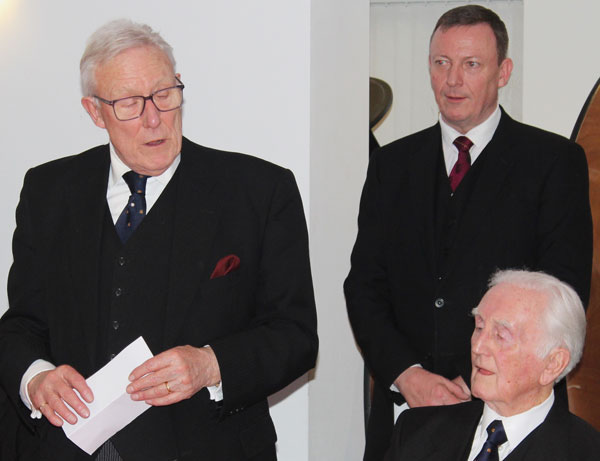 Ian said: "Companions, our celebrant this evening has already celebrated two anniversaries, a 50th and a 60th in Craft masonry, but tonight we are celebrating a very rare occurrence, 50 years' service in the Royal Arch".
During all this time Peter has continued to visit and support the lodges and chapters of which he is a member, this of course includes regular visits to Urmston which is over a 300 miles round trip.
Ian went on to say that the Grand Superintendent Tony Harrison also recognised Peter's outstanding contributions and had produced and signed a celebratory certificate to commemorate the evening, which was then read by Eddie Wilkinson, South Eastern Group Secretary and presented by Ian Higham followed by very worthily deserved applause from all present.
Peter responded to the applause by saying he felt very privileged and thanked Ian for his very kind comments. He thanked all who had attended, particularly those brethren who had travelled from Peterborough and all from Foundation Chapter.
The celebratory part of the ceremony completed, Ian vacated the first principles chair handing the sceptre back to the first principle, Phil, who thanked Ian for his presentation and very kind words towards their highly respected member.
On completion of the ceremony, Ian requested Peter to join him on leaving the chapter room with the grand and acting Provincial grand officers.
An excellent festive board ensued, encompassed with food and wine along with a heartfelt response in return from Peter, and the companions will have all left the celebration with a sense of pride at being in the presence of such a respected Freemason.