Brethren of Leyland Hesketh Lodge No 986 were summoned to celebrate Peter Dean's 50 years as a Freemason along with welcomed guests and visitors at a ceremony held at Chorley Masonic Hall.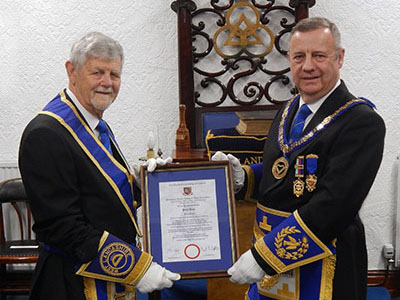 The meeting was opened in the usual manner by the WM John Measures, with everyone looking forward to hearing more about the celebrant. Once the initial lodge business had been completed, WM John Measures welcomed Assistant Provincial Grand Master Peter Lockett to Leyland Hesketh Lodge and offered him the gavel, which Peter was happy to take and lead the celebrations for Peter Dean.
Peter Dean was initiated into Wayfarers Lodge No 7544 on 7 April 1973 and completed his second degree six months later. It took Peter just one year from joining Freemasonry to become a master Mason as he was raised in April 1974, and he stayed a member of Wayfarers Lodge until 2005. After a move to Leyland Lodge No 4249, Peter remained a member until 2014 and on amalgamation, became a member of Leyland Hesketh Lodge.
The Chorley and Leyland Group Chairman Peter Allen was asked to read the 50 years celebratory certificate from the Provincial Grand Master Mark Matthews, following this, Peter Lockett was pleased to present the certificate to Peter Dean, thanking him for 50 years as a dedicated Freemason.
The visitors and brethren joined Peter at the festive board and enjoyed the fellowship the evening brought. John Dean, Peter's 'much younger brother' gave the toast to the celebrant and recalled Peter's installation as WM of Wayfarers Lodge when the ceiling came in on them at the festive board, and fortunately lightning didn't strike twice! Peter was happy to respond, thanking all the brethren for making his golden jubilee a night to remember.