Second Provincial Grand Principal Chris Butterfield, Assistant to the Provincial Grand Principals Malcolm Alexander and Chairman of the Chorley and Leyland Group Peter Allen joined the companions and guests of Chorley Chapter No 6287 to celebrate 50 years of Royal Arch Masonry achieved by three companions, Peter Dawson, John Eccles and Ray Gore. This was a rare occasion indeed; celebrating the attainment of 50 years in Royal Arch Masonry – and all three on the same day!
In his office as Second Provincial Grand Principal Chris Butterfield led the celebrations and related a potted story of each of the celebrant's personal and Masonic lives. He told the companions that Peter Dawson was born in February 1941 to parents Alice and Albert. At that time, he had an older sister Pat and a brother Bill who was sadly killed whilst serving in the Royal Navy. His younger brother John was still to appear on the scene.
Schooling began at the age of five and ended at the age of 15 when Peter started work. His early working career started locally in 1956, working for Leyland Motors as an apprentice fitter, qualifying in 1962 and being transferred to a newly formed demonstration department in 1964. This new department was attached to the sales and publicity department and his responsibility was the repairing and servicing of a fleet of trucks and buses. One of the tasks on his job description was to deliver vehicles and set up Commercial Vehicle Trade Shows.
He was delighted when this role took him to Frankfurt, Munich, Moscow and places in Czechoslovakia and Poland, as well as closer to home in London and Glasgow – sounds like a hard life! Promotion followed in 1968 and 1972, the first making him senior foreman over the five factories in Leyland and Chorley and the latter to Transport Superintendent, becoming Transport Manager in 1979. In 1981 he was presented with a gold watch marking 25 years of service.
Peter's married life started on 1 September 1962 when he married Adrienne at St Johns Church, Penwortham. His relationship started some time earlier on his nights out to the Empress Ballroom in Wigan watching young ladies dancing round their handbags. One of his friends introduced him to Adrienne on such a night and as they say, the rest is history.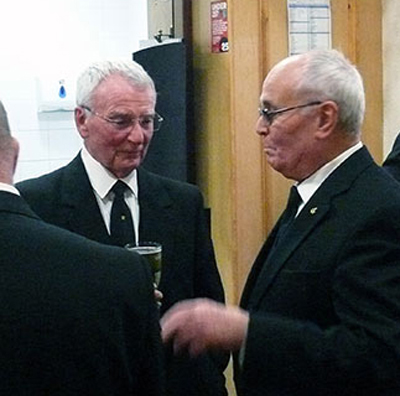 After a move back to Chorley in 1963, his first son Michael was born and in 1966 a move to Leyland to be closer to work saw the house fill up with twin sons Andrew and Simon being born in 1967. Peter now has five grandchildren and five great grandchildren.
Fishing was Peter's passion in his earlier life but family and work commitments changed that and it was replaced by an interest in steam. This included steam lorries, vans and even a steam lawnmower and visiting rallies with the family for 7 years exhibiting steam vehicles at Shanes Castle in Northern Ireland. He was also involved in the Leyland Festival for many years, including being its chairman from 1988 to 1997. He has also been on the committee of the Historic Commercial Vehicles Club of Great Britain.
Peter was initiated on 17 March 1969 into Duxbury Lodge No 5930 when the dining fee that night was five shillings – that's 25 pence in today's money. He was installed as master in September 1982, following which he served the lodge as charity steward for 14 years. He was master again in 1992, director of ceremonies for six years, assistant director of ceremonies on two occasions and almoner for a short period until Duxbury Lodge sadly returned its warrant in 2009. At this point he joined Standish Lodge No 4955. His service was recognised in 1993 when he was appointed Past Provincial Assistant Grand Director of Ceremonies and then promoted to the very high rank of Past Provincial Junior Grand Warden in 2001.
He was exalted into Chorley Chapter in 1971 on 28 September. He served as its first principal in 1987. Provincial rank came for him in 1994 when he was appointed Past Provincial Assistant Grand Sojourner.
The formal celebration being completed, the companions retired to the bar and dining room to reminisce on the events of the last 50 years in Chorley Chapter – and a lot of chatting went on.