Initiating a new member is always a joyful occasion and there was an air of anticipation amongst the brethren and guests of Old Lerpoolian Lodge No 9270 and, having taken their places, the WM Fred Hulse warmly welcomed them.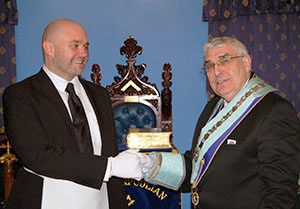 The lodge was opened in the first degree, the opening business of the lodge was transacted, a ballot was held for a new member, Paul Massey, who was proposed into Freemasonry by the lodge secretary and Woolton Group Vice Chairman Mike Cunliffe and seconded by Stephen Baker.
The ballot proved unanimously in favour and thus allowing the treasurer and secretary to retire in order to attend upon the candidate. On their return they informed the lodge that the candidate had signed the declaration and paid his fees.
Paul was announced by the tyler and the deacons escorted him into the lodge where he answered the usual questions, took his obligation and was initiated in a very sincere and exemplary manner by Fred who was assisted with the ceremony by past masters Michael Mansfield-Corbett and John McGibbon.
The working tools of an entered apprentice Freemason were explained by master Mason Oliver Leach. Newly initiated Paul then retired from the lodge to restore himself to his former comforts and on his return the charge was eloquently delivered by David Antonia.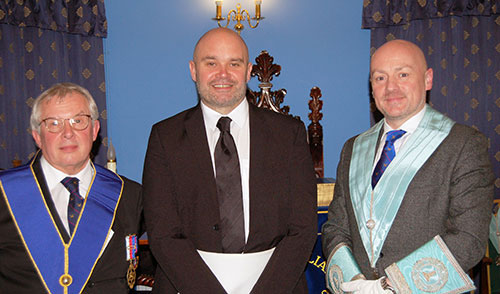 Stephen Williams, a member of the Woolton Group mentoring team then had much pleasure in welcoming Paul to the Woolton Group, hoping that he would have an enjoyable time in Freemasonry and presented Paul with a memory stick so he could follow the evening's ceremony.
Before the lodge was closed, Mike Cunliffe had the pleasurer of presenting Fred Hulse with a Vice Patron Certificate, acknowledging the donation the lodge had made to the Masonic Charitable Foundation 2021 Festival. Alms having been collected, Fred proceeded to close the lodge in the usual manner
It had been an exceptional initiation which had been enjoyed by all present and the brethren retired to the dining room, welcomed their new made brother in earnest and continued to further enjoy this special occasion.
Article and photographs by Doug Lace.