Orrell Lodge No 8371 celebrated the passing of Christian Lee at Pemberton Masonic Hall in the presence of AProvGM Malcolm Bell, who received his promotion at the Provincial Grand Lodge meeting in 2023. Malcolm has responsibility for the Wigan Group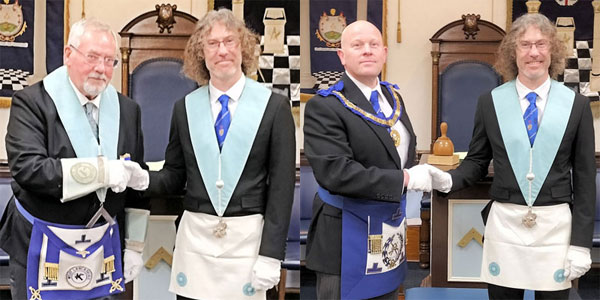 The lodge was opened promptly at 6:30pm, and following confirming the minutes of the last regular meeting the WM, Ernie Barrow, asked if Peter Carletti would assist the lodge by taking the chair of King Solomon for the ceremony of passing which he graciously accepted.
The candidate for passing was Christian Lee who was presented to the WM for the necessary questions. Christian answered them with confidence and accuracy before retiring to be prepared for the ceremony.
On his return for the ceremony of passing, which was conducted in fine style by Peter, ably assisted by his deacons Frank Highton (senior deacon) and Rod Hitchen (junior deacon). At the conclusion of the ceremony, Rod Hitchen presented the working tools of a fellow craft to the acclaim of all present.
Rory Galbraith, who was unable to attend the lodge installation meeting, was appointed and invested by the WM as a lodge steward, with the ensuing steward's address being given perfectly by Ted Lea.
At this point, the Provincial Grand Mentor Stewart Cranage was introduced to the brethren and proceeded to give a presentation entitled, 'Preparation for your Initiation' Stewart was in great form and the presentation was greatly enjoyed by all present. On completion he received a well-deserved round of applause.
At the first raising the AProvGM Malcolm Bell spoke on how impressed he had been with the candidate Christian, on how had conducted himself around the lodge and by the way he had answered the questions put to him. Indeed, he was sure he would go far in Freemasonry He also thanked all who had taken part in the ceremony on a job well done. In conclusion he thanked Stewart for his presentation which he found very informative.
The festive board was a lively tumultuous affair with the raffle raising over £150 for Masonic and non-Masonic charities, which was just as well as the standard of the jokes exchanged at the festive board was like tumbleweed blowing across the set of the wild west prairie on an old western.