The installation of a new master is a very special occasion for any lodge in its yearly programme. At Thurston Lodge No 2525, for David Ian Wilson Smith, the new WM, this was even more special as the principal guest was the Provincial Grand Master Tony Harrison, who was accompanied by his new assistant Peter Schofield and the Furness and South Lakeland Group Chairman Gary Rogerson.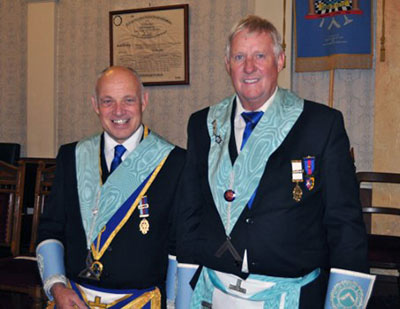 David expressed his appreciation to the brethren of the lodge for allowing him the honour of being their master. David had already been a master on two separate occasions for Newby Bridge Lodge No 4598 in 2002 and 2014 and was delighted to step into the role once more.
Although the ceremony was shorter than usual, nevertheless Martin Rigby installed David with sincerity and genuine feeling in front of 55 brethren. This did not go unnoticed by the Provincial Grand Master who thanked the members of the lodge for all their hard work after such a long 'rest' away from Masonry.
Those present were pleased to witness Daniel Crossley and Benjamin Gory, the Provincial Senior Grand Warden and the Provincial Junior Grand Warden respectively who, as part of the Provincial team, added a great sense of dignity and colour to the ceremony, along with the acting Provincial grand officers. No doubt David will remember the evening for a long time.
Harry Kilgour addressed the WM and it was obvious that he had put as much work into his part in the ceremony as he had for his work as the secretary of the lodge. The same can be said of the brethren who delivered the explanations of the working tools; the treasurer Graham Lloyd and the two light blues – Brian McKenna and Phil Hopkins who were all faultless. It is never easy being part of a ceremony for the first time, especially when one has to perform in front of a full team of Provincial grand officers, but Phil Hopkins was excellent.

For the celebratory meal, the setting of the 'Old Mill' just outside the village of Bardsea was stunning. The sky was clear, the stars were out and even the moon was up as the attendees were treated to a fine three course meal. Tony Harrison expressed his appreciation of the West Lancashire Freemasonry Foodbank collections and distributions last year during lockdown. He hoped that there will be a repeat of the effort for the coming winter and also that, now that the Festival fund raising period has expired, attention will be directed towards supporting the Teddies for Loving Care Charity.
The evening ended with more positive news of 250 new members wishing to join Freemasonry in the Province and perhaps another 27 in the pipe line. It seems that Freemasonry must be doing something right! Long may it continue. 'Nowt caps Freemasonry'.