Most chapters are quite excited at the arrival of a new candidate for exaltation into Royal Arch, but for University Chapter of Liverpool No 4274 it was a case of two candidates ready to be welcomed to the chapter.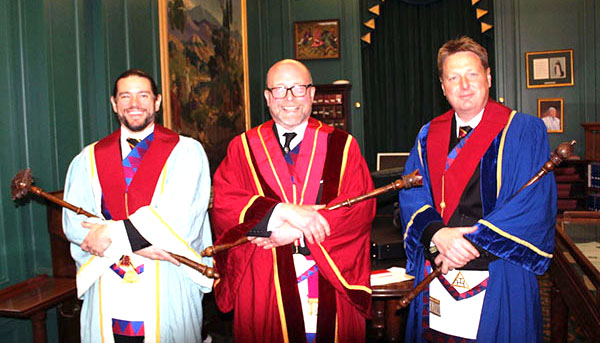 Meeting at the Athenaeum Club, Liverpool, the chapter meets in the reading room of the Athenaeum library which has built up a collection of over 60,000 volumes, consisting of many unusual and interesting books, including the private collection of William Roscoe. The reading room is a very sumptuous affair, of particular architectural merit with three panels depicting the tales of the goddess Athena designed by Edward Halliday – perhaps a unique setting to begin one's journey into Royal Arch amongst learned companions.
The three principals; first principal John Gibson, second principal Matt Casson and third principal David Waring, welcomed companions and guests to the chapter and proceeded to open the chapter ready to begin the business of the day – a double exaltation.
Paul Marriot announced that the candidates stood without and first assistant sojourner Wayne Warwick, accompanied by second assistant sojourner Philip Farrar, brought the candidates into the chapter. Wayne and Philip conducted the candidates around the chapter, presenting them to the principals and companions in excellent fashion.
Principal sojourner Adam Lindop was equally eloquent delivering a fine rendition of ritual which the two candidates no doubt appreciated. The candidates proceeded through the ceremony of exaltation and were warmly congratulated by the three principals and welcomed to the chapter as Royal Arch Masons, indeed now as companions.
Treasurer Rob Burgess then took to the floor to explain the mystical signs of a Royal Arch Mason, revealing a commanding knowledge of ritual, it was a tour de force of delivery and a fine end to a ceremony that, for the candidates was of the highest order.
The business of the chapter being concluded, members, guests and newly made companions retired to the dining room of the Athenaeum restaurant. First principal John Gibson led the toast to the two candidates, wishing them well and that they enjoy their Freemasonry and the company of the many companions, who also wished them well.
On a warm spring evening and with fading light, it was time for the chapter janitor Paul Harford to give the last toast of the evening, the janitors toast, and so with happy goodbyes and not one but two best wishes to the newly made companions.