Great Eccleston Chapter No 8895 held its 2023 installation convocation which was attended by David Jopling Provincial Grand Scribe Nehemiah, representing the Provincial Grand Superintendent Mark Matthews. David was accompanied by the Past Second Provincial Grand Principal Chris Band, along with Lancaster Group Vice Chairman Scott Devine.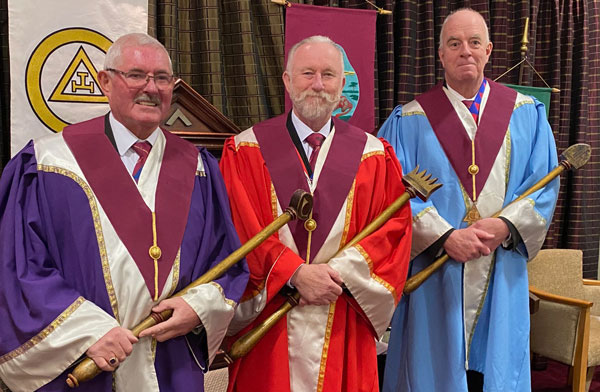 The ceremony was conducted by first principal Brian Stoddart and John Thornton was invited to act as installing scribe Nehemiah. Director of Ceremonies Stephen Hogg presented Jonathan Slee who was installed as third principal; Stuart Mowbray presented David Thornton who was installed as second principal and Scott Devine presented Les Newlands who was installed as first principal.
Robe addresses were given by Neil Hartley to the first principal, Andrew Keith to the second principal and Joseph Ayrton to the third principal. A cheque for £300 for the West Lancashire Freemasons' Charity was presented to David Jopling by immediate past first principal Brian Stoddart for which David offered thanks to the companions of the chapter on behalf of the recipients.
First principal Les Newlands appointed his officers for the ensuing year and thanked Jonathan Slee who was standing down as scribe Ezra in favour of Steve McClintock.
28 companions dined at the festive board and the raffle raised £100. The toast to the first principal was given by Brian Stoddart.
Les Newlands is married with three sons. He will be 66 in April and is looking forward to getting his state pension and bus pass!! Les is currently working as a commercial manager within the food industry three days a week and is winding down to full retirement at the end of the year.
Les' main hobby is golf and he was recently appointed as the Lancaster and District Group of Lodges Golf Representative.
He was initiated into Freemasonry on 10 September 2008 and is a member of Great Eccleston Lodge No 8895. Les was raised on 08 April 2009 and became master of the lodge in 2013. Les received his first Provincial appointment as acting Provincial Grand Standard Bearer from 2018 to 2019. He was promoted to Past Provincial Junior Grand Deacon in 2022.
Les Newlands joined Great Eccleston Chapter on 7 September 2015 and has worked his way up the ladder. He is also a member of another Masonic Order.