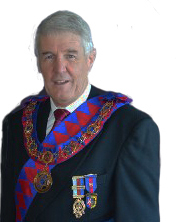 Welcome to the Royal Arch section of the website and I thank you for looking at this area of our website.
The three degrees in Craft Masonry is not the final story – those who have joined the Royal Arch will know that there is much more to come in a colourful, thought provoking and uplifting final chapter of Pure Antient Freemasonry.
If you are interested in joining us please contact your lodge or group Royal Arch lead to find out more or simply complete an enquiry form by clicking here.
For those who are already involved I trust that you will find the information available in the 'Toolbox' and 'Forthcoming events' areas helpful.
Our mission as the leaders in the Royal Arch is to make it a high quality experience of Freemasonry with an emphasis on enjoyment and understanding.
I trust therefore that this area of the website helps to achieve the latter in particular.
Paul Renton
Deputy Grand Superintendent​
Your three degrees in Craft Masonry
are not the final story….
There is much more to come by joining the 
Royal Arch