The members and visitors of Lodge of Chivalry No 3974 saw a wonderful ceremony in the lodge as the WM Martin Stewart raised his son Zachary to the sublime degree of a master Mason.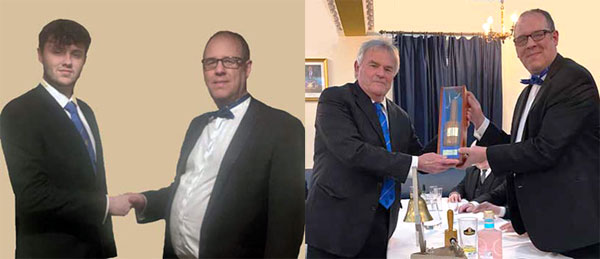 The ceremony of raising was not the only business for the lodge, as the WM welcomed a re-joining member and a joining member into the lodge after the opening ceremony. The two brothers Nigel and Ian Pye both decided to resume Freemasonry after attending their uncle Arnold's golden anniversary in Freemasonry in November 2021. Arnold is the longest serving member of Lodge of Chivalry and was delighted when his cousins asked if they could join the lodge.
The lodge membership is increasing by a further four new members in the next few months. Martin and the lodge secretary, Mark Holloway, interviewed a candidate before the meeting. He was proposed by Alex Sharp, who was initiated at the end of 2021.
After the meeting, the members of Mersey Lodge No 5199, which found it necessary to hand in the warrant, completed their applications to join Lodge of Chivalry and will be welcomed into the lodge as joining members later this season.
The lodge also has another joining member who has moved from Norfolk and is waiting for his Grand Lodge certificate to be issued so that he can join the lodge.
At the festive board, which due to COVID-19 restrictions on the number of diners allowed, was held for the first time in many years in the lodge room. It saw the WM of Crosby Lodge No 3714, Eric Moran, claiming the 'travelling gavel' to take it to Litherland for the first time since it was introduced. The object of the travelling gavel is to increase visiting across the Ormskirk and Bootle Group.
Martin is looking forward to reclaiming the 'gavel' at the Crosby Lodge installation meeting in March 2022!