William (Bill) Austin Taylor was born in 1936 at New Herrington, County Durham. He was educated at New Herrington Primary School and then moved on to Houghton-le- Spring Grammar School. After leaving school at sixteen in 1952, Bill attended Sunderland Technical College studying Electrical engineering and working with the National Coal Board. In 1963 Bill decided on a change in career and attended Brasted Place Theological College in Kent and afterwards, Lincoln Theological College.
Following his studies Bill moved to the north west in 1967 where he completed four years as the Curate at St George's Parish Church, Tyldesley. In 1971 for further development Fr. Bill (as he was now known) spent eight years as the Rector of St Mark's Parish Church, Cheetham Hill. In 1979 it was time for a further move, when he became Team Rector of the Parish of St Paul's, Peel, Little Hulton. In 1984 he was also appointed as the Area Dean of the Farnworth Parishes.
Bill then decided to travel back to the east where he preached until his retirement in 1996 at Holy Trinity Church, Pelton, County Durham.
Alongside these appointments Bill performed chaplaincy roles at St Anne's Hospice, Little Hulton, Peel Hall Hospital, the Air Training Corps, the Royal British Legion and Durham County Constabulary.
During much of this, if not all, Ruth his wife, gave her love and support. He wants this to be recorded with grateful thanks!
Bill joined Freemasonry and was initiated on the 19 March 1958, becoming a member of Penshaw Lodge No. 3194. Through his movements around various parishes, he joined other Masonic lodges. In 1976 he became a joining member of Glendale Lodge No.6573. This gives testament to the commitment of the man and the Mason.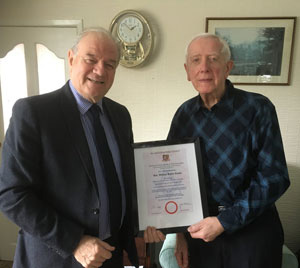 In 1997 on returning to the north west, he became a joining member of Marquis of Lorne Lodge No.1354 where for many years, he was an obvious choice as lodge chaplain.
The present year has been a most memorable year for Bill who on the 19 March celebrated his diamond jubilee in Freemasonry; He also on the 9 June celebrated fifty years as an ordained priest and on the 1 August celebrated 52 years married to Ruth.
Bill's hobbies are varied and include: reading, DIY and attending Worsley Probus club. Bill and Ruth are always at peace with the world when they are on the north east coast within sight of the North Sea and the earshot of the seagulls that fly that coast.
Bill wanted a quiet affair to celebrate his great achievement, so several brethren from the lodge were invited to his home for an informal presentation. Attending were several of the senior brethren, the WM and Anthony (Tony) Bent, who represented the Provincial Grand Master Tony Harrison. Much talk of the lodge and Freemasonry followed.
Anthony presented Bill with a certificate signed by Tony Harrison to mark his 60 years in Freemasonry. The presentation was duly made and following photographs, all were delighted to be offered a celebration buffet prepared by Ruth.
Everyone who attended Bill's home were delighted to share in marking this milestone for a great man and Mason.