Louis Spencer joined Freemasonry when he became a member of Aughton Lodge No 7996 in 2022.  At nearly 34 years of age Louis is married to Jade and has two children aged four and one. He holds a senior position in the family warehousing and distribution business.  Now, over 12 months in, Lewis reflects on his experience.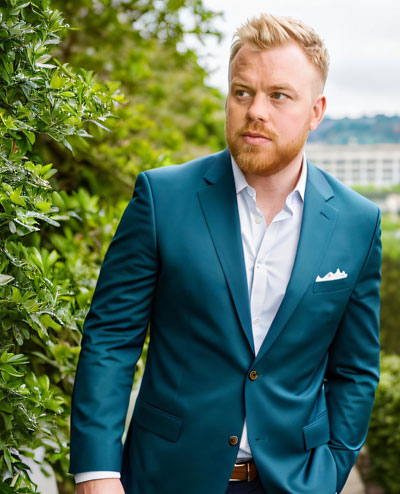 "After years of researching and uncovering the mysteries surrounding Freemasonry, I made a life-changing decision, became a Freemason!  The realization that some people I knew were already part of this ancient fraternity ignited a spark of curiosity within me, propelling me further down the path of discovery. And oh, what a journey it has been!
Joining the Freemasons has brought an immeasurable amount of joy and a profound sense of belonging to my life. The connections I've forged with my fellow Masonic brothers have surpassed any friendships I've encountered in my daily routine. These relationships go beyond mere acquaintances, they are a network of kindred spirits who uplift and support one another, creating bonds that transcend the ordinary.
But Freemasonry is more than just friendship; it's an avenue for personal growth and development. The principles and values upheld by the organization have guided me on a path of self-improvement and ethical living. The rituals, teachings, and symbols within Freemasonry have provided me with a framework for introspection and a deeper understanding of life's profound questions. It's like a mental gym, constantly challenging me to explore new ideas and expand my intellectual horizons.
Moreover, the rich history and traditions of Freemasonry have captivated my imagination.  Engaging with the symbolism has allowed me to immerse myself in a world of ancient wisdom and timeless philosophies. The pursuit of knowledge within the Masonic fraternity fuels my intellectual curiosity and grants me a unique perspective on life's intricacies.
In a world where meaningful connections are sometimes hard to find, Freemasonry has become my sanctuary, a place where I can grow, learn and find solace among genuine friends. The support, camaraderie and shared values have transformed my life, empowering me to be a better version of myself.
If you've been yearning for something more, a sense of belonging, personal growth and a community of like-minded individuals, I encourage you to explore the beautiful mysteries of Freemasonry. Who knows, it might just be the missing piece you've been searching for!"