When John Rodgers joined Lodge of Harmony No 580, little could he have realised that he would soon be its WM for a period of three years, before Anthony Prior would be installed in his stead.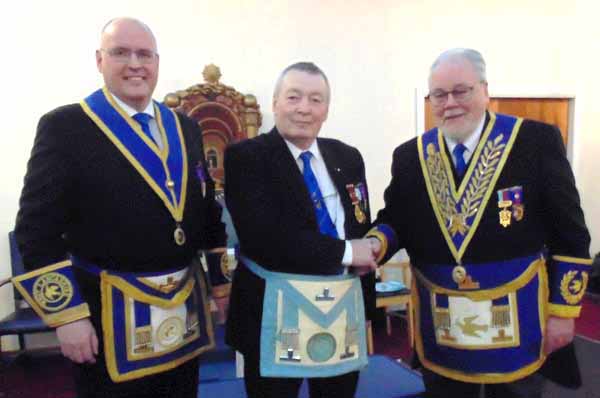 Watched by grand lodge officer Roy Pyne, representing the Provincial Grand Master Tony Harrison, and accompanied by the Provincial Grand Deacons and the Ormskirk and Bootle Group Chairman Graham Chambers, Tony was installed in a most able manner by the director of ceremonies Alan Brown.
The lodge secretary Rory Green, who is also an acting Provincial Assistant Grand Director of Ceremonies, read out a dispensation from the Grand Master allowing Tony to occupy the chair of two lodges simultaneously, as Tony was recently installed as WM of Park Hall Lodge No 8375.
William Cropper occupied the junior warden's position and David Williams took the senior warden's chair. David also presented the working tools of an installed master to Tony as he previously had at Park Hall Lodge installation.
Alistair Frew installed Tony as master of Park Hall Lodge, but at this installation he stood in for the senior deacon. Malcolm Sandywell, the group charity steward and a member of Stanley of Bickerstaffe Lodge No 3511, presented the addresses to the master and to the wardens, thus ensuring that visitors were involved in the ceremony.
One of the officers that Tony then invested was Bill Brewer, who had been elected as tyler. Bill was Tony's own proposer into Masonry.
Proceedings came to an end after Mark Holloway, secretary of Lodge of Chivalry No 3974, rose to claim the Travellers Gavel, which is used as a trophy for lodges who bring three or more of their members to visit the gavel holders and prove to have more of their members than any other lodge present. If more than two lodges qualify there will be some light hearted negotiations on who takes it away.
On this occasion it was agreed that Lodge of Chivalry would take it away because they have an initiation ceremony at their next meeting on 5 February 2022 and this would encourage the Stanley of Bickerstaff Lodge members to come and take it from them; assuming, that is, that another lodge doesn't bring more members than they. It's a fun way to encourage visiting between lodges. The initiation will involve Martin Stewart bringing his son Zachary into Freemasonry.