Freemasonry in the city of Liverpool
The group structure started to develop in 1998, when  the central Liverpool lodges were placed into four groups: Gladstone, Sandon, Trafalgar and Wellington, taking their names from four of Liverpool's docks.
The Sandon Group was named after the Sandon Dock, which was opened in 1851 and was notable for having six graving docks that opened on its north side. Following improvements in 1902, which included increasing the depth to over six feet, these docks could now accommodate the giant ships of the North Atlantic. 'Lord Sandon', after whom this dock was named, was the courtesy title for the heir to the Earldom of Harrowby. This particular Lord Sandon  was Dudley Ryder, who was born on 23 May 1798 and died on 19 November 1882 and was once an MP for the city.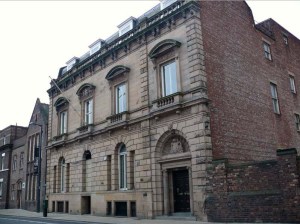 Most city lodges met at the hall in Hope Street which was built in 1858 and is a listed building. However, about half of those in the Gladstone Group and a small number in the Sandon and Wellington Groups met at such diverse venues as the Britannia Adelphi Hotel, the Liverpool Racquet Club and Staff House at the University of Liverpool. Between them, these Liverpool Groups comprised a cosmopolitan array of different lodges with fascinating heritage, reflecting the history and development of the city. Some of these lodges are very old; there are several over 200 years of age and one lodge that is 250 years old, many were founded since the Second World War, the most recent was founded in 1979.
In May 2011 there was another restructure with the four central Liverpool groups merging into two. The new Liverpool group includes the former Sandon, Wellington and Trafalgar groups and is responsible for all the lodges and chapters that meet in the hall in Hope Street, whilst the Gladstone group remains to encompass  the lodges and chapters that meet at other venues in the city centre such as the Adelphi Hotel, Artists Club, Liverpool University and the Medical Institute.
Wear your
Stewards
Jewel
with Pride