The Liverpool Group held a Giving Day in the Roman Suite at Liverpool Masonic Hall. The introduction to the event was delivered by Liverpool Group Chairman Dave Johnson before handing over to Assistant Provincial Grand Master Mark Matthews to give a brief resume with regard to the Masonic charities.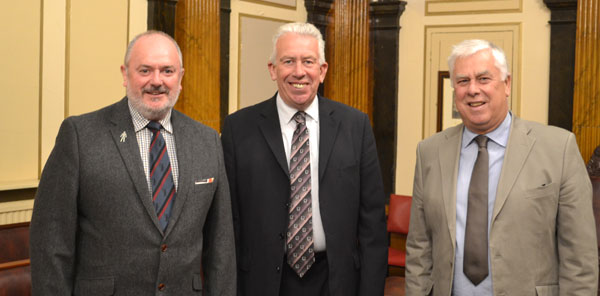 Mark began by saying that all money raised came from the brethren themselves, from their own pockets through fund raising events, personal giving and collections at each Lodge meeting. The national fund runs across the English constitution and is known as the Masonic Charitable Foundation. The constitution was split into Provinces, with Liverpool placed in the Province of West Lancashire, and this ran the West Lancashire Freemasons Charity.
The Province is split into groups for administrative purposes and at this time the 20 lodge's and 12 chapter's meeting at this hall form the Liverpool Group. These individual lodge's each give the own charitable donations throughout the year and at their annual installation ceremonies, most, if not all, have funded many local food banks these last few years alongside other causes they deem to have deserving merit. The cheques presented by the Liverpool Group today are the result of the annual Group Ball and similar events held within the hall.
Mark then had the pleasure of presenting the first cheque for £500 to Avril and Julie representing 'Breast Mates' which is based in Prescot. They explained how their aim was to raise the level of support that is offered to people diagnosed with breast cancer and to raise awareness of breast cancer in Knowsley and the surrounding districts. The organisation leases a small office in the centre of Prescot within the old NatWest Bank building on Eccleston Street and also have access to a large meeting space there.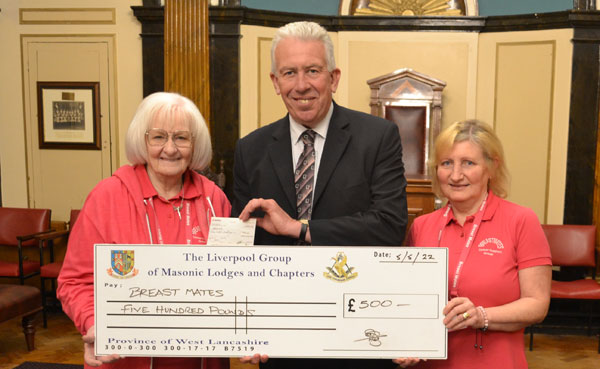 Avril and Julie explained how they were a non-medical self-help group run by local people with at the present time all bar one of their trustees have had a breast cancer diagnosis. This specialist breast cancer support group was formed to help alleviate the fact that a breast cancer diagnosis can lead to people feeling very alone and it was decided that meeting with others who are going through a similar experience and sharing information can really help. Although there have been great improvements in the treatment of breast cancer, people can have complex surgery and treatments lasting over many months and sometimes years. These improvements mean that more people are living with treatments that can cause side effects and that this has led to an increase in the numbers needing support. They also added that it is not generally realised that males too can have breast cancer, and the group also welcomes them.
The group arranges social trips as well as cultural, perhaps the theatre, a canal or river trip, and these are always well received, but it must be remembered that the outcome of treatment is not always a positive result and the group, all who are volunteers have to give support to those who are in a terminal position. Surprisingly these can be the most spirited of people and are uplifted by the camaraderie experienced with trips and social events. It was a fascinating glimpse into the world of 'Breast Mates' and was met with enthusiastic and warm applause for Avril and Julie.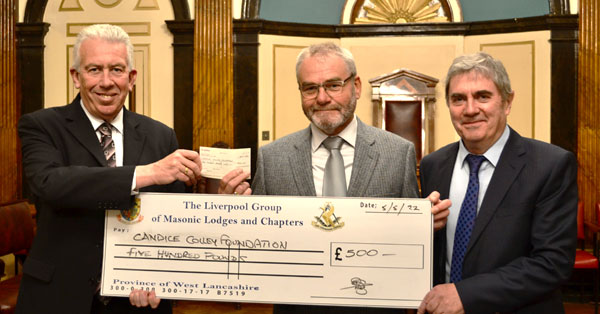 The next presentation was again a donation of £500 presented to the Candice Colley Foundation, and received on their behalf by Barry Fletcher and Tony Fennell. Barry and Tony are both involved within the charitable administration of West Lancashire Province, Barry as Regional Charity Steward and Tony as Liverpool Group Charity Steward. The cheque will be forwarded to the Candice Colley Foundation which is a small charity launched in April 2011 in memory of 23-year-old Candice Colley who lost her 4-year battle with ALL (Acute Lymphoblastic Leukaemia) in December 2010. Candice was a remarkable young woman whose courage inspired many people to join the Bone Marrow Register and who wanted to raise awareness about leukaemia and the need for bone marrow donations.
Whilst she was ill, Candice and her family received a lot of support from organisations such as The Anthony Nolan Trust, CLIC Sargent and Macmillan, however, it was also realised that there are gaps in the services that they could provide and needs that weren't being met by the larger charities. Candice was determined that when she was better, she wanted to raise money to help patients and their families with some of the unexpected minor financial outgoings, which quickly mount and cause unnecessary worry. She wanted to 'make life a little easier' for people going through similar illnesses and treatment. Unfortunately, although she had a successful bone marrow transplant, Candice was very weakened by the treatment and eventually couldn't fight off a lung infection, so she never got to do the fundraising she wanted to do.
Candice's family and friends are determined to fulfil her dream of helping other people in similar situations, hence The Candice Colley Foundation was launched. The Foundation aims to help leukaemia and other blood cancer patients and their families. Their support at the moment focuses on Ward 30 at Arrowe Park Hospital, Wirral and The Bone Marrow Transplant Unit at The Royal Liverpool Hospital; which are the local hospitals which treated Candice. Again, this presentation was met with much applause.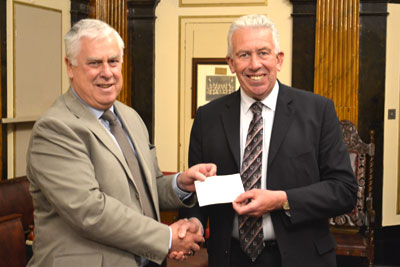 The third of the seven cheques presented by Mark during the day was again for £500 to Smiley Faces. Dave Johnson gave an explanation with regard to the charity and its aims. It was set up to offer support and guidance to parents of children with Down's syndrome, from the child's diagnosis through to adulthood. This charity provides monthly support group meetings with activities to support children who have Down's syndrome to include speech therapy, art therapy, singalong and activities to support development of fine and gross motor skills. This may need a little explanation; fine motor skills are activities in which you use the small muscles in your hands and wrists to make precise movements. They're different from gross motor skills like running and jumping, which use larger muscles. It also provides family activities during school holidays. This again was warmly received before having a short break while preparation was made for the rest of the donations.