With a total of 11 light blue brethren currently at Carnarvon Lodge No 2376, it's great to see so many of them actively getting involved and stepping up to give superb ritual.
At their October 2023 meeting, which was a second degree ceremony, all officers except for the master were light blue Masons. The brother whose ceremony it was requested no photos, which they happily supported and accommodated. A wonderful ceremony was given by everyone involved but the show was stolen by Carnarvon Lodge's junior deacon Dr Michael Kipping, who presented their new fellow craft with an explanation of the second degree tracing board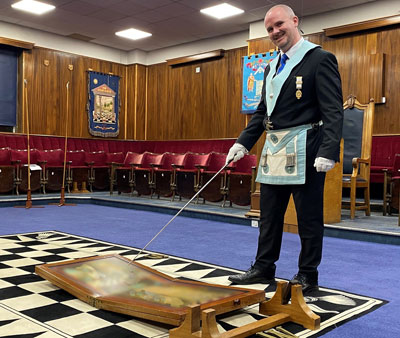 The new candidate stood at the foot of the tracing board, with the senior deacon Kieran Taylor-Bradshaw at his side, as Michael extended his pointer and started. An expert delivery of the second degree tracing board was calmly explained as Michael completed the ritual with no prompting or pauses.
Commenting afterwards during the festive board their new fellow craft said: "Thank you all for the commitment and effort that has gone into tonight's ceremony. I have had a brilliant night and I am looking forward to learning ritual as well as that for future members, so that they may have as great an experience as I have just had."
During his initiation earlier in the year, the charge after initiation was given by Kieran with equal delivery and skill. Before Kieran, it was Adam Dennett who presented the charge after initiation to new brethren and with each new member being impressed by the ritual given to them, they are encouraged to learn and deliver as well if they wish to.
Carnarvon Lodge welcome and encourage each of their new members to get involved and learn ritual as early as they can, within the degree they're in. At the installation ceremony in December, the new fellow craft and two new master Masons will be presenting the working tools. There will also be a rarer sight at the installation, with every office being held by light blue Masons looking to work their way through the chair of King Solomon for the first time.
Master elect Christan Upton OBE, will take the chair for the first time as master, which is already looking like being a busy year. With two third degrees and more initiates looking to join Carnarvon Lodge, next year the old days of waiting a few years to join the ladder will be back again.
If you would like to attend their installation in December, please book in with the Secretary Graham Roberts via graham.sec2376@gmail.com