Len Speakman of the Lodge of Valour No 4322 became the wonderful Celebrant for 50 years of dedicated service to Freemasonry. Len was supported by Assistant Provincial Grand Master David Ogden who gave a brief account of Len's life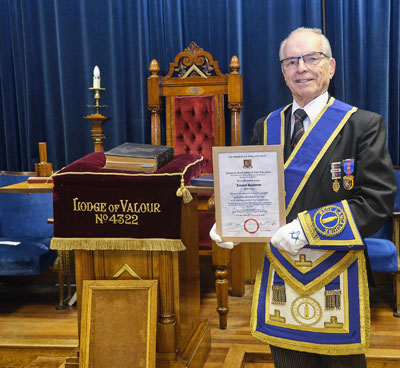 Grand officers in attendance were; Past Assistant Provincial Grand Master Tony Bent, Malcolm Parr, Len Hart, Leigh Group Chairman Jonathan Heaton and Geoffrey Bent. Acting Provincial grand officers in attendance were; Anthony Roe and John Tabern. Also in attendance were; Dr David Case the group vice chairman, ProvDepGDC Robb Fitzsimmons, who in his usual calm and collected way enabled the occasion to flow in a very graceful manner. David Porter the IPM was acting WM on this occasion.
Len was born in February 1941, being the eldest of two sons of Fred and Nellie Speakman, his father was a lorry driver and his mother a factory worker. Len's life had taken many turns, he attended Marsland Green Infant and Junior School, Manchester Road, Astley, and then on to Manchester Road Secondary Modern Boys School at Manchester Road in Leigh.
On leaving school in April 1956, he became an apprentice motor mechanic for the National Coal Board at Gibfield Colliery site at Atherton, during his apprenticeship he attended Technical College in Leigh and Bolton, gaining a City and Guilds Diplomas, both in Motor Vehicle Mechanics and Technicians Work.
He carried on studying for the examination to be admitted as a Graduate Member of the Institute of the Motor Industry, unfortunately he was too young to sit the examination, fortunately for him the National Coal Board extended his day release until he was old enough to sit the examination, which he passed, to become a Graduate Member of the IMI. After completing the necessary experience, he was granted Associate Membership of the IMI which he still holds today, now as Len Speakman AMIMI.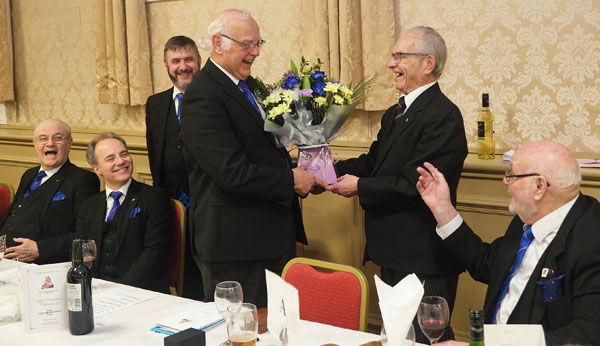 After completing his apprenticeship, he became a full-time mechanic at the National Coal Board, the garage moved from Gibfield Colliery in Atherton to Bickershaw Colliery in Leigh where he carried on as a mechanic rising to first vehicle inspector and then charge hand. After a number of years Len was promoted to service receptionist responsible for the records of all the maintenance done on the fleet vehicles in the north western area. He eventually did part time work for the NHS as a porter at Astley Hospital, transferring to Leigh Infirmary when Astley Hospital closed, he worked as a general porter at Leigh Infirmary later becoming a theatre assistant which he thoroughly enjoyed and stayed there until his retirement.
Len started his Masonic life when he was proposed into the Lodge of Valour by Alan Speakman and by Harry Emmerson. He was initiated by Trevor Wood on 9 April 1973, passed by Trevor Wood on 12 November 1973, raised by Alan Speakman on 14 January 1974. After completing all the offices except the position of tyler, he was installed as the WM in March 1987-1988, ADC in March 1990-1996, charity steward March 1997-2003, assistant secretary in March 2003, then lodge secretary in March 2004 to the present date.
Len's honours were vast and started when he received Provincial honours in 1994, PPAGSwdB in1998, PPSGD in 2008, PPGSuptWks in 2013, then to PPJGW. He joined Atherton Chapter No 4488 on the 17 March 1975 and was installed as first principal 2003-2004. He gained Provincial honours to PPGStdB in April 2011, October 2019 to PPDepGSwd. In 2003 he became a Director to the Board of Leigh Masonic Hall, then becoming secretary in March 2007 and Chairman of the Board in May 2017, he is still very active in this role today.
When David Ogden finally gave Len his beautifully framed service certificate, the big surprise for Len was when David presented him with the high rank of PPSGW, the atmosphere in the lodge became overwhelming, with plenty of tears of joy on such a beautiful joyous occasion. During his time as secretary in Lodge of Valour, his wife Joyce has been supportive in all the tasks he has undertaken.
The evening progressed with the usual catch up with friends old and new with plenty of laughter and cheer, in many ways it was a very emotional occasion with many guests overwhelmed by the genuine sincerity from Len and David, indeed many of the guests shared the same sentiments of emotion.