Chairman of the Lancaster and District Group Neil McGill officially handed over donations of food, toiletries, Christmas gifts and a cheque in the sum of £2,500 to Annette Smith, Manager of Morecambe Bay Foodbank, at Rowley Court on Friday 11 December.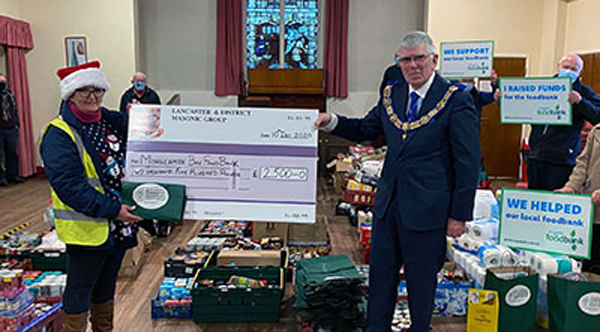 The presentation took place at 11am and was attended by Provincial Grand Master Tony Harrison who expressed special thanks to all those who have co-ordinated, delivered, and collated donations for the Province of West Lancashire Food Bank Appeal. Morecambe Foodbank sent three vans to collect the donations, assisted by brethren who provided another two vans. Annette was overwhelmed by the generosity shown by Freemasons from the Lancaster Group and has said that the cash donation will enable the foodbank to pay for next year's insurance of their vans.
Donations delivered to Rowley Court over the last two Saturdays of November and first Saturday of December amounted to approximately 5,000 items. Neil McGill and group foodbank co-ordinator Mike Craddock have been amazed at the brethren's generosity and thank everyone for their efforts. A significant number of gifts and chocolates have also been donated, together with a Santa costume. The entire effort will make this dark time more pleasant for those in need across the Province.
Neil and his small team comprising of Mike Ashton, Scott Devine, John Heaton, Steve Plevey and Alan Physic would like to thank everyone that assisted in the collection, delivery and cataloguing of the goods; the Rowley Court Masonic Hall Committee for their kind support in providing the hall for storage and to Keith Heyes for keeping everyone COVID-19 safe.
Morecambe Bay Foodbank is a project founded by local churches and community groups, working together towards stopping hunger in the local area. It began life at the GYM Church on Green Street in Morecambe and has now moved to The West End Community Centre on Westminster Road in Morecambe. Over six tonnes of food are distributed each month with the operation growing since its inception in 2012. A small staff team is led by Foodbank Manager Annette Smith, aided by over 80 regular volunteers who give up their time to help each week.
The foodbank doesn't believe that anyone in the community should have to face going hungry. It provides three days nutritionally balanced emergency food and support to local people who are referred to them in crisis. The foodbank is part of a nationwide network of foodbanks, supported by The Trussell Trust, working to combat poverty and hunger across the UK.

Every day people in the UK go hungry for reasons ranging from redundancy to receiving an unexpected bill on a low income. A simple box of food makes a big difference, with foodbanks helping prevent crime, housing loss, family breakdown and mental health problems.
Schools, churches, businesses, local organisations and individuals donate non-perishable, in-date food to a foodbank. Large collections often take place as part of Harvest Festival celebrations and food is also collected at supermarkets.
Food banks partner with a wide range of care professionals who identify people in need. They comprise of doctors, health visitors, social workers and police who identify people in crisis and issue them with a foodbank voucher. The voucher is presented by the recipient to a foodbank centre where it can be redeemed for three days of emergency food. Volunteers meet clients over a warm drink or free hot meal and signpost people to agencies able to solve longer-term problems.
Foodbank Manager Annette has asked for help to find new premises for the Morecambe Bay Foodbank from April 2021. The foodbank currently occupies 5,000 square feet of The Platform in Morecambe, kindly on loan by Lancaster City Council, who want to turn it back to an entertainment venue. For more information about the Morecambe Bay Foodbank or to help then in any way, click here.