Dr Glyn Davies MRCVS, a member of Lodge Amounderness No 7105, celebrated 50 years as a Freemason since his initiation in 1973 into Withy Lodge No 7733. Honorary member of Lodge Amounderness Bill Huck, Past Assistant Provincial Grand Master, was joined by grand officers Don Richardson, John Robson and Chris Blackwell, to congratulate Glyn who had opted for an informal celebration.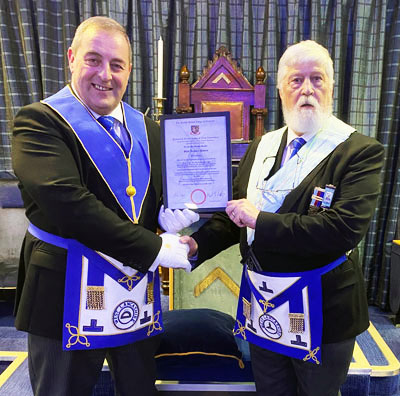 During the meeting, Glyn was delighted to be presented with his 50-year certificate on behalf of Provincial Grand Master Mark Matthews by Lancaster Group Vice Chairman Scott Devine. On behalf of the brethren of Lodge Amounderness, WM Jim Bennett presented Glyn with a miniature set of working tools and a lodge certificate. Following the meeting 30 brethren dined at the festive board where Scott Devine had the honour to outline Glyn Davies' life and Masonic career.
Glyn was born, bred and educated in Lancashire. He graduated from the University of Liverpool, Faculty of Veterinary Science in 1971. He then entered veterinary practice at Woodplumpton, where he worked mainly as a farm animal practitioner for the next 42 years, starting as a junior associate and retiring as a senior partner in 2014.
During that time, Glyn also trained and worked as an instructor for the now defunct Agricultural Training Board. He was appointed a local veterinary inspector (Official Veterinarian) and engaged in disease control including TB, Brucellosis, Johne's disease, BSE ('Mad Cow Disease') and sheep scab to mention a few.
Shortly after qualifying, Glyn joined the Chipping Show Committee and acted as Honorary Veterinary Surgeon for over 30 years. He was vice chairman, chairman and in 2016 Show President and is a director for the annual show. Glyn is also a Trustee for Chipping Young Farmers' Club.
In his local community, Glyn was a school governor for St Francis' Roman Catholic Primary School, Goosnargh, for over 10 years and for St Cecilia's Roman Catholic High School, Longridge, for 5 years. Glyn is married to his wife Julie who is a retired Registrar. They have five grown up children and seven grandchildren.
In 1982, Glyn was appointed a Justice of the Peace on the Preston Bench and served on the Adult Crime and Youth Panels for over 36 years. He represented the Bench on Lancashire County Council Police Committee and served as a member of the Board of Visitors for Preston Prison for a time. He is also a Past Chairman of the Youth Panel. Glyn was elected Deputy Chairman and later Chairman of Preston Bench for the appointed period. On reaching the age of 70 in June 2018, Glyn retired from the Bench to the Supplemental List.
Glyn is secretary to the Parochial Church Council, St James, Whitechapel and a trustee for Bushell House Care Home (The Bushell Hospital), Goosnargh.
On 20 March 1973, with Slade's 'Come on feel the noise' topping the charts, Glyn was initiated into Withy Lodge, passed to the degree of a fellow craft on the 18 September 1973 and raised to the degree on a master Mason on the 19 February 1974. Glyn received his first appointment in Provincial Grand Lodge in 1988 as Provincial Grand Steward. He was promoted to PPSGD in 1992, PPJGW in 2000 and PPSGW in 2021.
In the Royal Arch, Glyn was exalted into Old Worden Chapter No 5366 on 3 April 1979, later becoming a founding member of both Great Eccleston Chapter No 8895 in 1982 and Cuerden with Withy Chapter No.7733 in 1993. Glyn's significant dedication to the Royal Arch was first rewarded in 1992 when he received his first appointment as Provincial Grand Steward. Further recognition came in 1996 when he was promoted to Past Provincial Grand Sojourner and Past Provincial Grand Scribe Nehemiah in 2014.
There are many other Masonic Orders in which Glyn's dedication to Freemasonry have seen him rise through the ranks to high levels.