As the players gathered at Knott End Golf Club for the Lancaster and District Group golf day, unfortunately so did the dark clouds. When the first players ventured onto the course it was not long before the rain 'persisted' down which was to last the whole day and as they say in Scotland, 'they all got drookit'. Although it was a cold, windy and very wet day it was enjoyed by all 21 players who braved the conditions.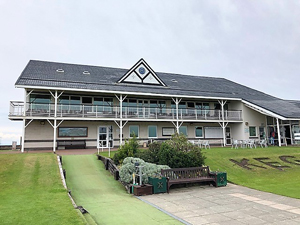 Vice Chairman of the Lancaster and District Group Scott Devine kindly attended to present the prizes.
The 'Longest Drive' was won by Les Newlands and the two 'Nearest the Pin' holes were won by Arthur Laycock and David Gardner.
The Lancaster and District Group trophy was won by Great Eccleston Lodge No 8895 and of that team the overall individual winner for the day was Les Newlands.
The Morecambe and Heysham trophy was won by Silverdale Lodge No 6926, whose team consisted of Carl Horrax, Alan Proctor and Stephen Fox.
The six players to go forward to represent the Lancaster and District Group at the Provincial Golf Final at Lytham Green Drive Golf Club are: Les Newlands, Carl Horrocks, Peter Roberts, Mike Brown, David Christopherson and Martin Green. Gordon Rae did qualify but cannot attend on the day.
The raffle raised £110 and there were several winners of a variety of alcoholic beverages.
Thanks were given to the group golf representative Bill Bamber for all his hard work in organising the event and also to Knott End stalwart Gordon Rae, who had ably assisted him.

Article and photographs courtesy of Les Newlands.