Members of lodges that meet in Urmston Masonic Hall, along with their families and friends, gathered together in goodly numbers at Urmston Masonic Hall to celebrate King Charles III's Coronation.

The event was organised by Urmston Masonic Hall Manager Charlene, together with members of the Hall Committee, including Darren Gregory, Ezra McGowan and Ian Wood, who are members of Hand and Heart Lodge No 4109.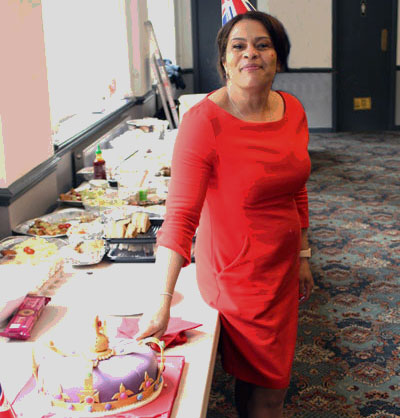 Charlene. together with various lodge members and their better halves gathered together early in the day to set up the tables and other items including a bouncy castle, face painting table, DJ station, barbecue and various other games and activities to add the entertainment.
It was good to see that the event attracted many Masons, together with friends and families, and a very good number of local residents turned up and had a great deal of fun and plenty to eat and drink!
Urmston Masonic Hall and gardens rang to the sound of tunes from local DJ Jake Heaviside throughout the afternoon, even with the gentle rain failing trying to dampen the enthusiasm. After toasting the new King, an impressive cake made by Ian Wood's wife Julie, fashioned in the shape of the King Edward Crown, was cut by Charlene and quickly devoured in honour of the day!
The festivities carried on into the early evening, with the toasts of the day having been made, the new monarch thoroughly welcomed and all the cake eaten, a most enjoyable afternoon drew to a close.
As well as to celebrate King Charles III's Coronation, the event was a means of showing off the hall and its facilities to local residents and through the event there were a couple of enquiries received about joining Masonry, which are being pursued and hopefully will culminate in new members joining our fraternity.