Kenneth William Cartwright PPrJGW, a member of Longford Lodge No 5900, celebrated 60 years in Freemasonry. To officiate on this special occasion, the lodge welcomed APrGM John Seddon who was accompanied by Ian Halsall PrDGDC, Eccles Group Chairman Stuart Boyd and other acting officers.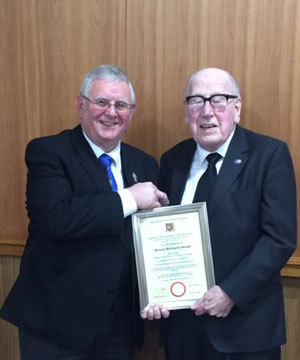 Initial business concluded, John Seddon occupied the chair and requested that the celebrant, Ken, be seated comfortably and began with a resume of Ken's life.
Ken was born on 17 August 1924 in Trafford Park Manchester to William and Alma, before moving to Blackpool some 10 years later. Ken studied Electrical Engineering at Blackpool and Burnley Technical College, followed one-year teaching before qualifying as a full member of the Institute of Electrical Engineers.
He gained employment 1945 at the English Electric Company as becoming Company Liaison Engineer and other managerial posts during which time the company merged with GEC. From 1970 to retirement in 1986 he was a senior manager with responsibilities for the North of England, Scotland and Northern Ireland.
In March 1951, Ken married Sylvia and celebrated their golden wedding in 2001 before Sylvia sadly passed away. They had two children, Neil who is a retired solicitor and Nichola, a retired physiotherapist.
Ken is very close to his family spending as much time as possible with his 3 granddaughters, Anna, Helena and Emma and grandson, Oliver.
Ken recalls when he was a chorister at St Stephen on the Cliffs Church in Bispham and was proud to sing as a member of the choir at the 1937 Festival of English Church Music held at the Royal Albert Hall. He enjoys listening to classical music and is an avid fan of cricket, rugby and F1 motor racing.
Masonry began for Ken's when he was proposed by Ted Binns and initiated into Longford Lodge on 22 April 1959, passed in September 1959 and raised in October of the same year. He was installed as WM in February 1973. He has served in many offices including, charity steward, almoner, case almoner with the Grand Charity and with the Masonic Trust for Girls and Boys.
He received his first appointment to PPrAGDC in 1985, promoted to PPrGSuptWKS in 1994 and further promotion in 2000 to his current rank of PPrJGW. He was exhalted into Royal Arch in April 2004 and is also a member of other side degrees. He recalls that his greatest honour was that of being made an honorary member of Longford Lodge in 2017.
Ken was presented with a certificate signed by the PrGM Tony Harrison in recognition of his 60 years' service to Freemasonry. John Seddon, concluding the ceremony, extended the congratulations of Tony Harrison along with his own personal congratulations.
The meeting concluded the brethren retired to share a celebratory meal at the festive board.