At the start of 2023, Jon Boriss, charity steward and junior deacon of Ansdell Lodge No 3607 in the South Fylde Group, had not ridden a bike since his high school years and the longest run he'd ever done was a 10km jog around Stanley Park.  That was all set to change when he decided to take on two physical challenges to raise money for a local charity, Blackpool Carers.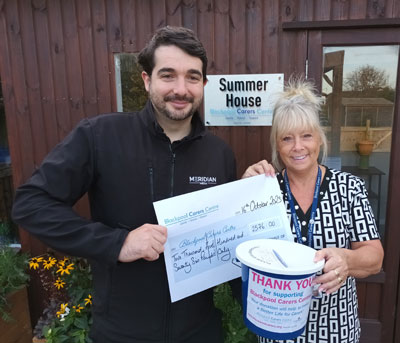 Jon signed up to a cycle challenge organised by Blackpool Carers to cycle from Blackpool to Edinburgh over the course of three days. The 207-mile journey would take the riders from Blackpool to Penrith, Penrith over the border at Gretna Green through to Beattock before the final day approaching Edinburgh and reaching the finish point in Grassmarket, underneath the iconic Edinburgh Castle.
Blackpool Carers have a large number of events running each year and with that in mind Jon also signed up to take part in the 2023 Great North Run in Newcastle, the 13.1-mile, half marathon from Newcastle Centre to South Shields (Sir Mo Farah's last professional event).
When asked about his decision to raise money for both events Jon said: "I haven't had a great deal of spare time over the last two years as I've been growing and building my own business, which now has a firm base and I have time available. I want to help give back to the local area, and supporting Blackpool Carers is a great way to do this, as well as physically challenging myself."
Jon continued: "The cycle challenge was physically demanding but worth every moment with some incredible scenery and some well needed laughs along the way. The Great North Run was equally thrilling providing a mini heatwave for the run itself, followed by a month's worth of rain and a thunder storm across an hour and a half at the finish line, causing absolute disruption to the area and leaving 1,000s of runners, including myself, stuck in South Shields for several hours. It would have been quicker to walk the half marathon's route back to Newcastle!"
Terry Hodkinson, Head of Business Development and Fundraising at Blackpool Carers Centre said: "Jon decided this year to not only do one challenge for Blackpool Carers but two in the space of six weeks. Jon cycled, along with 15 other cyclists, from Blackpool to Edinburgh over three days covering 207 miles through rain, (lots of rain), sunshine and huge hills!  Then six weeks later Jon ran a half marathon taking part in the Great North Run with nine other runners. To complete one challenge in a year is fantastic but to complete two hard challenges in six weeks is really incredible and what an amount of money he raised!  We are extremely grateful for Jon's support and the £2,576 will go towards respite activities for our youngest carers, some as young as five years old. Each £10 provides a young carer with two hours of respite giving them time away from their caring role and allowing them to play with other young carers creating friendships and having fun. We look after our finances closely and for every £1 donated/raised 94p goes directly to supporting our carers. Jon has also signed up to do the same next year, the cycle challenge and the GNR, so if anyone fancies joining him on either challenge or both, then I am sure he would love the company! Thank you, Jon, from everyone at Blackpool Carers Centre."

As Terry mentioned above, Jon's fundraising efforts have not stopped there, as he has already committed to a number of activities next year including the cycle challenge which is five countries in four days across some 320 miles around the United Kingdom and Ireland; as well as returning to the Great North Run. He has plans to include a swimming event into the mix to create a 'Charity Triathlon'.
Should you wish to support Jon on his fundraising targets in 2024, you can donate through the charities approved IustGiving page, https://www.justgiving.com/page/jon-boriss-1697450912737 where you'll find all the information about his coming events. Direct support to Blackpool Carers Centre is always welcome and faithfully applied.
Report written by Jon Boriss and Terry Hodkinson, edit and main picture by John Topping