Following on from the announcement that a grant of £4,000 had been awarded to the North West Air Ambulance from West Lancashire Freemasons, Barry Jameson, Assistant Provincial Grand Master, went together with his counterparts from East Lancashire and Cheshire, John Farrington and Simon Palfreyman, to make a joint presentation at Barton Heliport.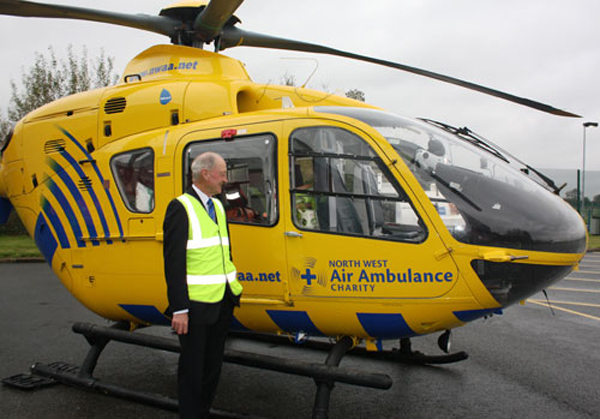 The North West Air Ambulance operates in the areas covered by the three Masonic Provinces, and each had a grant allocated by the Masonic Charitable Foundation. This grant of £12,000 to the North West Air Ambulance Charity from Freemasons from the North West of England has brought the total Masonic support given to air ambulances across the country to £2,400,000 since 2007. The total contribution to the North West Air Ambulance Charity since 2008 by Freemasons is £125,365
The North West Air Ambulance Charity's helicopters fly 365 days a year, with the doctors and paramedics on board providing rapid treatment and hospital transfers to patients across the entire North West region each year – an area covering 5,500 square miles and 8,000,000 people.
Since it was launched in 1999, the charity has flown over 20,000 missions across the region, with the ambulance called out an average of five times a day, rising to 10 in summer. Just as many critically injured patients would not survive without the service that the charity provides, the North West Air Ambulance would not be here without the support of its community of fundraisers and partners. The charity is completely reliant on public and corporate donations to keep the North West's Air Ambulance Charity helicopters operational and helping to save lives, needing to raise over £9,500,000 n a year to support its lifesaving service.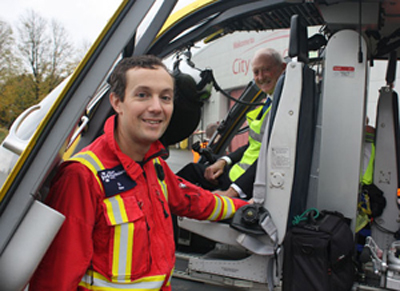 Barry Jameson was really pleased to meet the team at Barton Heliport. He had twice witnessed them land on his golf course on mercy missions. However, on arrival, the Air Ambulance had been called out on a mission, but Operations Manager Dave Briggs and Head of High Value Giving Jon Ward were on hand to give a very detailed explanation of the operation and some wonderful new developments that would undoubtedly add to the lifesaving capacity the service already evidences.
Timing was perfect, as the team returned from the mission and offered to show the visitors around. Dr Oli Harrison, major trauma consultant, and Rob Evans, the senior paramedic and team leader, were more than happy to invite Barry to take his place in the pilot's seat whilst they explained all the kit and lifesaving equipment they carried. It was an eye-opening experience to learn how they literally had the capacity to take the hospital to the patient, no matter how remote, and provide the lifesaving treatment that delay would frustrate.
These donations come from the generosity of our members and it is rewarding to know that the money we put in those little white envelopes goes back into the community supporting great causes.