Everton Lodge No 823 has celebrated the golden jubilee of one of its most esteemed members, John James Walsh. The lodge was opened in due form with standard business completed when the principal guest Assistant Provincial Grand Master Mark Matthews was warmly received. On this occasion Mark was accompanied by Provincial Deputy Grand Director of Ceremonies Robb Fitzsimmons, Provincial Grand Stewards James Eddowes and Patrick Smith, along with Liverpool Group Chairman Dave Johnson.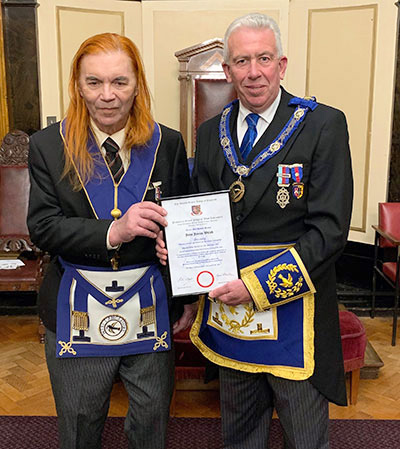 Mark was offered the gavel which he gratefully accepted and occupied the chair of King Solomon; the appropriate salutations then being led by Robb Fitzsimmons. Mark expressed his delight in attending with it being a great honour to preside over the 50 years in Freemasonry celebration for John James Walsh. Mark requested the Provincial Deputy Grand Director of Ceremonies, to seat the celebrant before him and ensure he was comfortable.
After asking John if he was seated in comfort, Mark began to recount some of John's life story to the brethren gathered to support him. John was born in November 1941 at the Liverpool Maternity Hospital, which was then two years into the harshness and difficulties of World War II. At that time of course, Bootle, Liverpool and the Wirral being situated on both sides of the River Mersey were suffering from relentless bombing by the German Luftwaffe during the blitz and it was during one such bombing raid blackout that John actually arrived into the World.
Also in 1941, the German battleship the Bismarck was sunk. The Japanese Imperial Air Force severely bombed the American Naval Base at Pearl Harbour, which ultimately drew the United States of America into the war. Of interest to musicians, 1941 was the year in which the guitarist Les Paul almost electrocuted himself attempting to build the first solid body electric guitar. His efforts paid off however as the Gibson Les Paul electric guitar brand went on to become one of the most successful ever, achieving global recognition.
Hit songs of 1941 included Glenn Miller with 'Chattanooga Choo Choo', Gene Autry singing 'You Are My Sunshine' and the Andrews Sisters swinging to 'The Boogie Woogie Bugle Boy', while the big movies of 1941 were 'Citizen Kane', 'Dumbo', 'They died with their boots on' and the '49th Parallel'. Other people along with John born in 1941, included football manager Sir Alex Ferguson, cook Delia Smith, rock band Queen drummer Roger Taylor, actress Julie Christie, designer Vivienne Westwood and England's World Cup winning captain Bobby Moore.
John's father James worked as a clerk at the Royal Liver Buildings while mother, Florence, was also a clerk but at Imperial Chemical Industries (ICI) in Liverpool, with the family home at Brodie Avenue in the Mossley Hill area of South Liverpool. Tragically, John had four older siblings, who he never met as they all died in their infancy, before he was born.
His dad who had served throughout the war in the Royal Navy also passed away far too soon in 1947 and we cannot begin to imagine how hard it must have been for John's mum to be left as a lone parent to raise her then six year old son. No matter how difficult it may have been, she succeeded with flying colours.
John attended Booker Avenue Primary School and mum Florence managed to obtain a grant for him to attend as a border at the famous Bluecoat Secondary School. On leaving school John worked as a clerk at a warehouse on Stanley Street in the city centre for a period of 18 months before deciding that that line of work wasn't for him and as a result, he chose to follow his heart and decided to become a chef.
He left Liverpool on attaining a place at the Blackpool School of Arts and successfully gained his City and Guilds qualifications in catering, with these qualifications forming the bedrock for him to embark on his chosen career path. The work took John to various hotels and hospitals, even spending a period of time as a mobile chef which entailed filling in for other chefs as and when required at numerous hospitals, ultimately settling with a permanent position at the Warrington General Hospital as a chef there for 33 years, until retirement in 2006.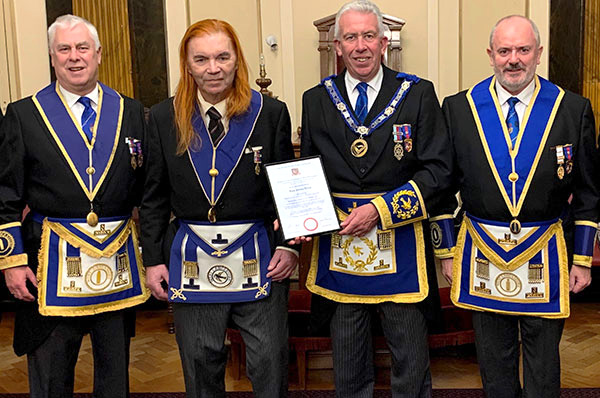 Away from work John enjoyed cycling, yachting and narrow boating and actually owned his own small yacht and a narrow boat. In terms of John's narrow boating exploits, at one point John bought a boat shell to which he had an engine fitted. He then spent a period of two years diligently fitting out the rest of the boat himself. The specifications of John's work on the boat, which was of the highest standard, included the installation of a bath for his mum, as she accompanied John on many of his boating adventures.
Addressing him directly Mark said: "I'm sure John that would have been very proud of your achievement in completing what must have been a major project from a shell to a fully completed water worthy narrow boat. Also, John, to your great credit, you also spent many years caring for, looking after and nursing your dear mum Florence."
John is a great lover of all things musical and was for many years a keen concert goer and a staunch supporter of the Manchester Halle Orchestra
In terms of John's Masonic career, he was initiated into Everton Lodge on 17 February 1971, proposed by Dave Hankey, who John met through his church, and seconded by Gwilym Jones. He steadily progressed through each office within the lodge becoming WM in 1983.
Mark next mentioned that he was aware that John, during that first time of being WM, enjoyed a memorable Ladies Evening which was held at Liverpool Masonic Hall and he could imagine the brethren with their wives and partners dancing the night away to the hits of 1983 such as Culture Club with 'Karma Chameleon', Billy Joel with 'Uptown Girl', UB40 with 'Red Red Wine', Kajagoogoo with 'Too Shy', and most likely Bonnie Tyler with 'Total Eclipse of The Heart'.
Not one to rest on his laurels John has been WM of Everton Lodge on two further occasions, in 1996 and 2008, and in the years between these three occasions as master he also served his lodge in the offices of tyler, chaplain, preceptor and director of ceremonies.
Such commitment to Freemasonry was recognised in 1993 by the Province when John received his first appointment to the rank of Past Provincial Assistant Grand Superintendent of Works, followed in 2010 with a promotion to the rank of Past Provincial Junior Grand Deacon.
Talking to the brethren in general Mark said that when he spoke to John in preparation for the evening's celebration, he had asked him if there was anything else that he particularly wanted him to mention. His response was simply to say: "I have really enjoyed my time in Freemasonry and it's all been great." Mark reflected that he was sure that the brethren would all agree that those few words said everything and that he hoped that they were all enjoying their Masonic endeavours as much as John had and still was, and that he would continue to do so. Dave Johnson next read the certificate for 50-year service to Freemasonry which was then presented to John by Mark.
Those present retired to enjoy the festive board and, in response to the toast to the grand officers, Mark responded by thanking all those who had made the evening a great success, including Robb Fitzsimmons who had looked after him all night; the two stewards Jim and Patrick; group chairman Dave Johnson, and Bob Paterson who is group secretary for Liverpool, and also the members of Everton Lodge.
During the evening John was presented with a pair of 50-year service cuff-links by Dave Johnson on behalf of the Liverpool Group and from Everton Lodge he received a compact disc player with a selection of discs, mainly of classical music.
In the later toast to the celebrant, John responded by thanking everyone for attending and making it a special occasion for him. He also thanked the lodge and the group for his wonderful gifts. Everton Lodge also presented a wonderful floral display in bouquet form for Mark's wife Debbie, and for Mark himself; a bottle of liquid refreshment, which were both well received with heartfelt thanks.