At their first meeting of the season for Ormskirk Priory Lodge No 4007 at Ormskirk Masonic Hall, and in the presence of Peter Levick who was the representative of the Provincial Grand Master Mark Matthews, John Rawcliffe was installed as WM.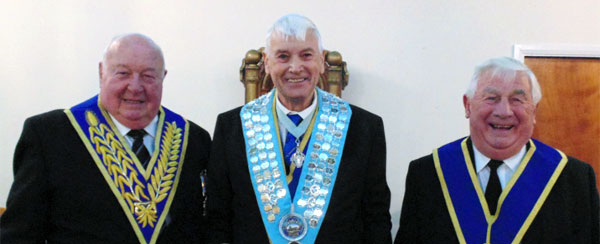 The brethren attending the installation witnessed John Rawcliffe, a stalwart of the lodge, being installed as WM for the third time in 40 years by Barry Hewitt. Although the Group Chairman Graham Chambers could not attend, the group treasurer Paul McLachan attended to represent him.
Mike Dutton, a regular visitor of the lodge, assisted the lodge by occupying the junior warden's chair, Ian Kennedy stood in as DC and chaplain and visitor Eric Ashcroft stood in as junior deacon. Gerald Eaves, who originally installed John 40 years ago to the day, presented the third degree working tools, Ian Kennedy presented the second degree working tools the long way and finally having just returned from illness, Brian Heaney presented the first degree working tools.
To the surprise to all attending, Ian Kennedy presented John with his very own gavel, which will be formally presented at the October 2023 meeting, when it will be the 50th celebration of John's membership of Freemasonry.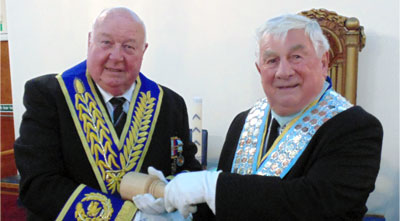 Peter then rose to bring greetings from the Provincial Grand Master and also to present John with the Hall Stone Jewel which was presented to the lodge originally by the Grand Master in 1921.
John is well known as a keen begonia grower where he won first prize at the Shrewsbury show earlier in 2023 and has also exhibited at the Chorley and Southport Flower Shows. He also finds time to look after his koi carp in a specially constructed pond.
At the festive board, Peter informed the brethren of the change in requirements for Masonic relief and also mentioned the initiative being taken by Lathom Lodge No 2229, a past master's lodge, at their October 2023 meeting in Litherland where they will be demonstrating closing down from the third degree the long way and also a short talk on Royal Arch Chapter.
To this short talk and insight into Royal Arch, all light blues are in invited to attend and only needing pay half of the dining fee. Any light blue brethren interested in attending this talk should contact the lodge secretary, Mark Holloway via email at:- L3974sec@aol.com .