At the installation meeting of Torrisholme Lodge No 5245 held at Morecambe Masonic Hall, the brethren were pleased and proud to give a warm welcome to Phillip (Phil) Gardner as the principal guest for the occasion. Phil was accompanied and supported by Lancaster and District Group Chairman Neil McGill, group vice chairman and group secretary Scott Devine and Chris Larder respectively, grand officers Jim Wilson and Ray Firth, together with acting Provincial grand officers David Ingham, Terry Ridal and Ben Yates.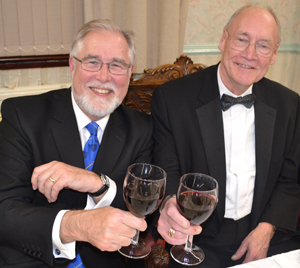 On entering the lodge room Phil was welcomed by the WM Anthony Gregg, in reply Phil commented that he was delighted to be present and that having had many a happy meeting at Torrisholme Lodge, he was sure today would be no different.
In keeping with a long-established tradition, the current masters of Morecambe Lodge No 1561, Heysham Lodge No 4108 and Poulton Le Sands Lodge No 1051 were called upon to occupy the principal installing officers' posts.
The master elect John Bates was presented by Brian Townson before being installed into the chair of the lodge in a delightful ceremony by Anthony. This was the second time John has been the WM of Torrisholme Lodge, having been master n 2007. He is a very busy Mason, being the secretary of Morecambe Masonic Hall for five years and Torrisholme Lodge's long-standing director of ceremonies for nine years. This meeting will see John stand down from that post and hand the reigns over to his ADC Mick Taylor. John also takes a leading part in other Masonic orders.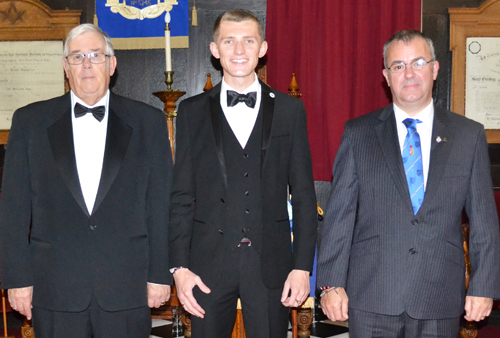 The working tools of an installed master and a master Mason were competently explained by experienced Masons Brian Dewhurst and Graham Taylor respectively, whilst those of the second and first degrees were given by somewhat less experienced brethren Ben Gregg and Gareth Evans in a manner which brought great acclaim from the assembled brethren.
The address to the master was given by Brian Townson, that to the wardens by Paul Dent, whilst the address to the brethren was delivered by their principal guest Phil Gardner.
As the ceremony drew to a close it marked the opportunity for Phil to bring the fraternal greetings and best wishes of the Provincial Grand Master Tony Harrison, who undoubtedly would have been impressed with a ceremony that had been done with great humour and a lightness of touch.
Phil was delighted to receive notification of donations to charity and good causes totalling £2,519.58, with £1,709. 58 going to the MCF 2021 Festival (£509.58 was donated through the white envelope scheme), £250 WLFC, £65 Morecambe Masonic Hall, £95 Lancaster and District Group charities and £400 North West Cancer Research (WM charity fund).
At the Festival of St John, which was held at Morecambe Masonic Hall and attended by 60 brethren, Phil was very pleased to be able to bring his own sincere congratulations to John for accepting the responsibility of ruling and governing such a fine lodge.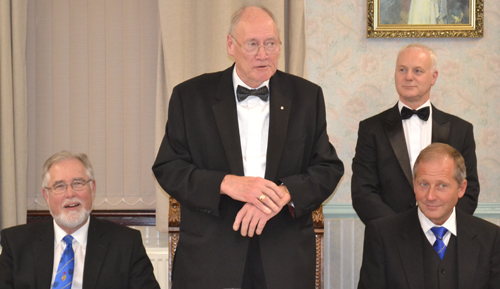 Phil continued his address by remembering his first visit to Torrisholme Lodge as a guest, back in 1982, it had been a fine meeting then and today was no different, the ceremony and festive board both being of top quality. Within the body of his speech, Phil touched upon our Masonic halls and the need to support them as well as forthcoming group events such as the 'Group Ball' and the 'Group Walk'.
The toast to the newly installed master saw Graham Taylor deliver an interesting summation of John's Masonic career and personal details.
Before John responded with gratitude to the many good wishes and congratulations he had received, George Fox performed a striking rendition of the 'Master's Song' with accompaniment by John Heaton.
The evening's raffle raised the impressive sum of £253 with a further £45 from the 'master's swindle'.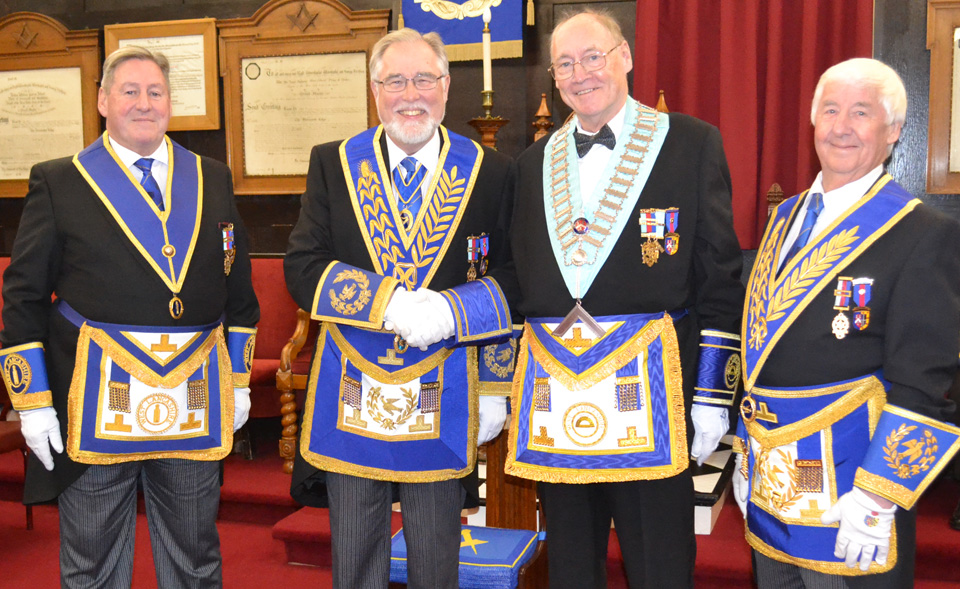 Article and photographs by Paul Thompson.