There can be no lodge that has not been affected by the pandemic and no master that has not had his year in office disrupted by COVID-19. To recognise this disruption, lodges up and down the country are holding proclamations to allow their masters to enjoy and complete their time in office. One such master is Jason Bleakley of Norcliffe Lodge No 7371.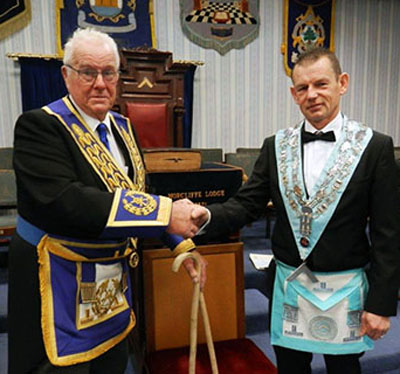 Jason and his wife Sharon run a successful property maintenance firm, Bleakley Maintenance. on the Fylde coast. If ever there could be a better example of a Mason, then Jason would be it, having given his expertise and time for free to the Blackpool Community Homeless Project to complete their 'Homeless Hub' during the lockdown.
Outside of Masonry, Jason has a passion for fishing and pictures often appear on his Facebook page of him holding a whopper of a fish. Another of Jason's passions is motorsport, rallying to be precise, and he has been known to assist in marshalling events.
Norcliffe Lodge was honoured to have Geoffrey Pritchard as the representative of the Provincial Grand Master Tony Harrison, with Peter Greathead, Jim Woods and the North Fylde Group Chairman John Cross supporting him.
Even though the ceremony was a proclamation it was carried out with the upmost dignity. The deacons were addressed by Paul Hard and the brethren of the lodge were addressed by Geoff Pritchard. Once the proclamation was complete Geoff brought the greetings of the Provincial Grand Master Tony Harrison and in turn, Jason had pleasure in presenting cheques for £2,000 to the West Lancashire Freemasons' Charity and £500 to Prostate Cancer UK.
Jason then completed the evening's business and closed the lodge; the brethren then moving to the relaxed surroundings of the dining room to enjoy the well-deserved refreshments.
Geoff's response to the toast to the grand officers is always a light-hearted and humours affair. Geoff congratulated all who took part and thanked Jason for continuing as master and wished him a good year in office.
A raffle held during the festive board raised an impressive £250, a fantastic start to what is sure to be an impressive year of fund raising. In closing, the tyler's toast was given by Gordon Ivett.