Semper Sursum Lodge No 5622 had 70 brethren from the Furness and South Lakeland Group and beyond assembled at the Fairfield, Barrow's Masonic Hall, to celebrate the diamond jubilee of John Thomas Fawcett; known to all as Jack.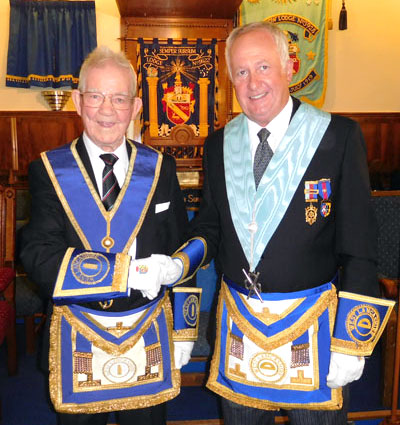 Assistant Provincial Grand Master Peter Schofield, was supported on this occasion by Norman Thompson, Past Provincial Grand Master for Cumberland and Westmoreland, David Grainger, Past Assistant Provincial Grand Master and several other grand and acting Provincial grand officers; Ryan Modlin, Andrew McClements, Morton Richardson, Tony Jackson and Phil Renney.
Accepting the gavel of the lodge from the WM, Stuart Braithwaite, Peter Schofield took the chair and addressed the brethren, with the celebrant seated in a place of honour, describing the intricate windings of Jack's life and Masonic career in detail.
Jack was born in January 1931 in Barrow-in-Furness. He attended Barrow Island Junior and Senior Schools before completing his education at Alfred Barrow Boys School. Jack's local church was St Johns on Barrow Island, where he was confirmed. It played a huge role in his younger years and he attended church every Sunday morning at 8am to take Holy Communion and this has continued throughout his life. He now attends at St Pauls.
During his school years and as a teenager, Jack was a very keen sportsman and played football for all his school teams and also played table tennis for St Johns Church, Barrow Island Social Club and the Barrow Town team. He became a very accomplished table tennis player which resulted in him receiving trials for the Lancashire County team and holding the distinction of being selected to play the then World Champion Victor Barna in an exhibition match.
On leaving school at the age of 14, he secured employment with Vickers Armstrong as an office boy where he remained for 12 months. On leaving employment with Vickers Armstrong in 1946, Jack was successful in securing an apprenticeship with J Coutts & Co, a coachbuilding firm which was established in the town in 1867, as an apprentice coach painter and signwriter and served a five-year apprenticeship.
In February 1952 he was called up for National Service and served 2 years in the Royal Army Ordnance Corps based at Royal Ordnance HQ, Childwell, Nottinghamshire. The late beloved Queen Elizabeth's Coronation was in 1953 and at this time during Jack's National Service he was selected for special duty in London. During this period soldiers from all over the Commonwealth descended on the city in preparation for the event with huge camps being established in public areas including Regents Park and Hyde Park, very much resembling the wonderful events earlier this month with the Coronation of King Charles III.
At this time, Jack was honoured by being selected from many to perform special duties due to training and experience as an army truck driver obtained at Deep Cut in Hampshire. His duty for a period of five months was to drive the commanding officer responsible for co-ordination of all the British Empire troops taking part in the Coronation. Whilst fulfilling all his official duties throughout London, for which he was issued a special unique uniform, a particularly fulfilling and proud period of Jack's life.

Some years later after a conversation or two with a respected businessman in Barrow, Jack's Masonic journey began on Wednesday 15 May 1963 when poor and penniless he was initiated into Semper Sursum Lodge meeting at the Masonic Hall, Abbey Road, Barrow. Interestingly he was the last person to be initiated in the old Masonic Hall which was situated in the demolished Registry Office next to what is now the Furness Railway Pub in Abbey Road. He was also the first person to receive a degree ceremony in the new building on Fairfield Lane.
Jack was proposed on 19 September 1962 by G E Burgess and seconded by C E Earnshaw, the ballot being held on 17 October 1962. He was passed to the degree of a fellow craft on 16 October 1963 before being raised to the sublime degree of a master Mason on 20 November 1963.
Following Jack's initiation, he progressed through the various offices of Semper Sursum Lodge before becoming WM for the first time in 1975. The principal guest at his installation was The Rev R K Leigh, Past Grand Chaplain, Deputy Provincial Grand Master. His installing officer was R W Pryer.
The year 1993 was a particularly special and proud year in Freemasonry for Jack with his son Dean initiated into Semper Sursum Lodge. Jack carried out his initiation on 20 January, passed him to the degree of a fellowcraft on 17 February before delivering the traditional history to Dean on his raising on 17 March, that same year. Dean has since risen to the rank of Past Provincial Grand Superintendent of Works.
Due to unforeseen circumstances with the loss of a lodge member, Jack very kindly agreed to occupy the chair of King Solomon of this lodge for a second time in 1996, which allowed the officers to progress naturally through the various offices and allowed the lodge to recover from this difficult time.
In the Royal Arch, he was exalted into Semper Sursum Chapter No. 5622 on 6 October 1965. He progressed through the offices of the chapter before becoming third principal in 1976, second principal in 1977 and first principal in May 1978 and was again first principal for a second year in 1999.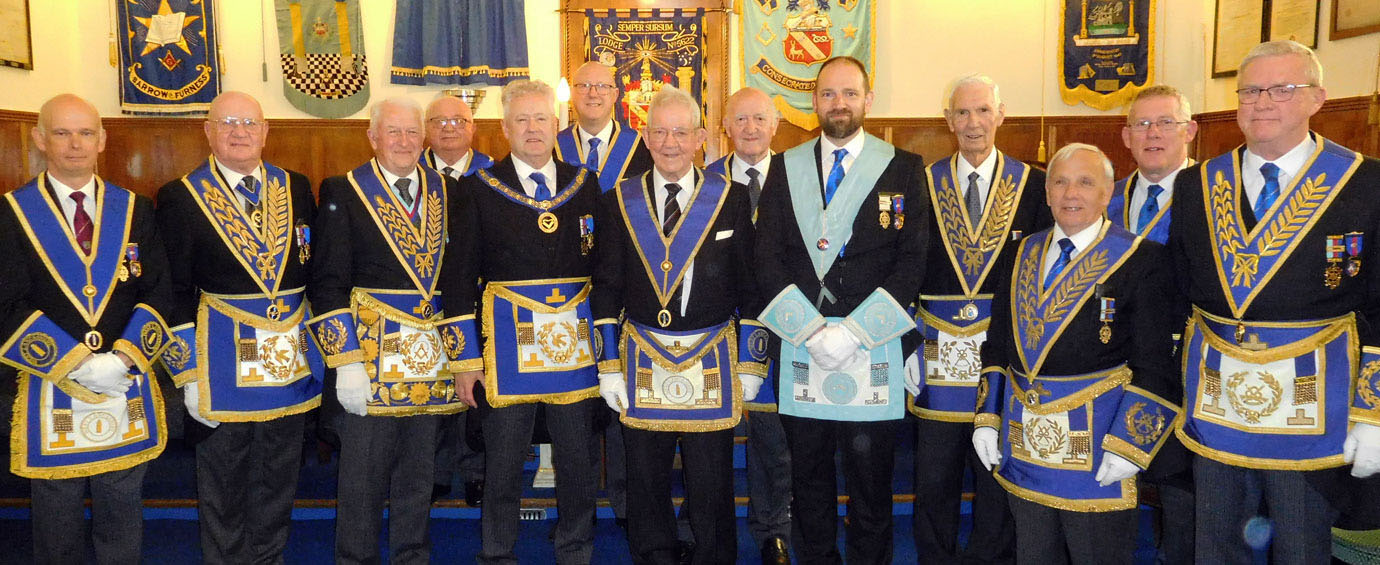 In Provincial Grand Lodge, Jack was appointed to the rank of Past Provincial Junior Grand Deacon in May 1985 before being promoted to the very high rank of Past Provincial Junior Grand Warden in 1994; a just reward for his commitment to Semper Sursum Lodge and Freemasonry in general.
In Provincial Grand Chapter he was appointed to the rank of Provincial Grand. Steward. in 1985 promoted to Past Provincial Principal Grand Sojourner in 1989 to Past Provincial Grand Sword Bearer in 2006, before being promoted to the very high rank of Past Provincial Grand Scribe Nehemiah on 11 April 2016.
By virtue of holding the rank of Provincial Grand. Steward. in the Royal Arch, Jack became a member of the Provincial Grand Stewards' Chapter of West Lancashire No 8516. He held the office of Principal Sojourner in 1989 and was appointed by Arthur Anyon Kay, who was the first principal of the chapter at that time.
Jack was a founder member of Senatores Chapter of Installed First Principals No 8966 in Blackpool in 1987 and became a joining member of Setantia Chapter of First Principals No 7755 in Preston again in 1987 and soon became a very active, valued and respected member of both.
Now retired, Jack continues to play golf and along with Sheila, enjoys fairly regular visits to London usually driven down by Dean to enjoy a nice meal, take in the sights and see an odd show now and again.
At the festive banquet following the ceremony, the assembled company enjoyed prawn cocktail followed by chicken breast in a tarragon and white wine sauce served with crushed potatoes and seasonal vegetables. The raffle at the festive board realised £420 for Jack's chosen charity of St. Mary's Hospice in Ulverston.