James Sydney (Syd) Bateson was installed as the new master of Morecambe Lodge No 1561 in a superb ceremony, watched and supported by his two sons, Stuart and Alan Bateson, senior warden and assistant secretary respectively, his brother-in-law Malcolm Cambidge, lodge secretary and his nephew Bryan Cambidge, the director of ceremonies.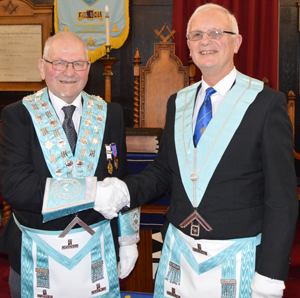 Syd was born in 1934 in Old Town, a small village just outside of Kirby Lonsdale. Syd originally worked at ICI in Heysham, before moving to Stories Decorative Products, where he worked in the maintenance department until his retirement in in 1999. He is married with two children, Stuart and Alan mentioned above and also two grandchildren whom he hopes will at some time in the future follow in the family tradition and become Masons.
Syd joined Morecambe Lodge in 1995 and was proposed by Malcolm Cambidge and his father-in-law Bill Cambidge, to be followed by his sons in 1999. He hopes to install his son Stuart next year as his successor. He is a keen Mason having joined several other Masonic Orders.
The brethren of the lodge were pleased to welcome Peter Scofield, who was representing the Provincial Grand Master. Peter was accompanied by the Lancaster and District Group Chairman Neil McGill, group secretary Chris Larder and acting Provincial grand officers Terry Ridal, Paul Mason, Ben Yates and David Ingham.
The immediate past and installing master Ian Macluskie did an absolutely superb job, very ably supported by the officers of the lodge. Syd was presented by his seconder and brother-in-law Malcolm Cambidge.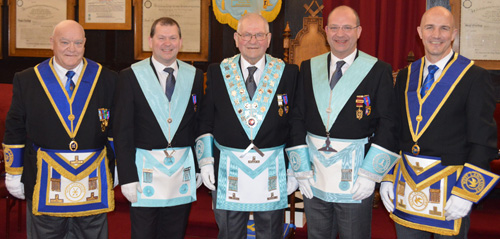 After assuming the chair of King Solomon, Syd was presented with explanations of the working tools by three junior brethren of the lodge in an exemplary manner; Stephen Cooper (third degree), Mathew Armstrong (second degree) and Mark Swanepoel (first degree). Superb addresses to the master and wardens were given by lodge members Marian Korzeniowski and Max Yates respectively, whilst the address to the brethren of the lodge was given in style by Geoff Wilman.
As the ceremony drew to a close, Peter Scofield was delighted to bring the greetings of the PrGM Tony Harrison and added his own congratulations and thanks for the opportunity to witness such a first rate occasion. He was also very pleased to receive notice of donations made by the lodge to Masonic and non-Masonic charities amounting to a staggering £2125.70. Cancer Care Lancaster (Slynedales) received £1000, WLFC £201.50, MCF 2021 Festival £314.20, Emma Ellis 'Fight for Life' appeal £150, Masonic sporting charities £40, group walk £150 and lodge widows £270.
The Festival of St John was held at Morecambe Masonic Hall, where the brethren enjoyed a superb banquet. Following the toast to the master of Morecambe Lodge, given by his son Stuart, the brethren made their way home having had a very enjoyable evening.

Article written by Paul Thompson, photographs courtesy of Stewart Aimson.