The installation meeting of Stanley of Bickerstaffe Lodge No 3511 at Ormskirk Masonic Hall was a well-attended event with the principal guest Michael Tax Provincial Senior Grand Warden, representing the Provincial Grand Master Mark Matthews.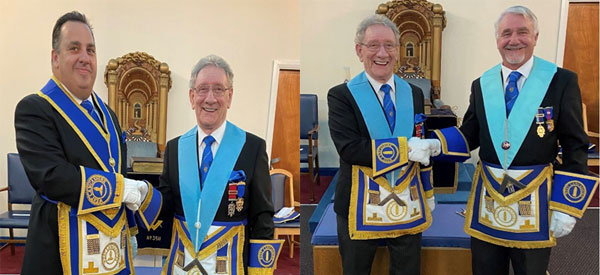 Michael was joined by Assistant Provincial Grand Master Frank Umbers and Malcolm Alexander both of whom are lodge members. Also in attendance was Graham Chambers the Chairman of Ormskirk and Bootle Group and Steve Dunn the Vice Chairman and two acting Provincial grand officers, Robert Midgley and Stuart Grainier.
The outgoing master of the lodge, Bill Griffiths, thanked the assembled lodge brethren for their help and support throughout the last two years of his mastership which had encompassed some difficult times.
Malcolm Alexander presented Malcolm Sandywell as the master elect and an excellent ceremony proceeded in due form. The third degree working tools were presented by Tom Birtles, a light blue, the second degree working tools were presented by Ray Tompsett and the first degree working tools were presented by James Clarke, another light blue.
The inner guard was addressed by Ray Tompsett and both wardens were addressed by Mervyn Davison whilst Andy Clarke gave the address to the newly installed master all in a flawless display. Michael Tax addressed the brethren of the lodge and then congratulated the master, the old and new directors of ceremonies and those who presented the working tools for a well performed ceremony when nerves can so often get in the way.
Charitable cheques were then presented to Michael Tax consisting of; £2,000 for the WLFC with thanks partly due to Malcolm Sandywell's sponsored Ride the Lights event at Blackpool and £250 each to The Alzheimer's Society, Woodlands Hospice, Friends of Tithebarn and the Stroke Association, giving a magnificent amount of £3,000. Michael thanked the brethren of the lodge for their very generous donations.
After closing the lodge, the brethren retired to the festive board for another excellent meal provided by Gary O'Brien and his staff, where Michael Tax again thanked the brethren who had participated in the ceremony and gave the assembled throng a potted history of Stanley of Bickerstaffe Lodge. The lodge was founded in 1912 when Edward Stanley, the 17th Earl of Derby, was Provincial Grand Master.
Michael also reminded the brethren that part of the Membership Pathway was based upon the importance placed upon caring for and looking after the needs of each other. Those assembled were certainly well looked after at this festive board and a happy time was had by all.