Ian James Wilkinson PPrJGW lived up to his name as he celebrated his golden jubilee at the meeting of St Nicholas Lodge No 3620. Shiny, sharp and just as keen as he was on the day he was initiated.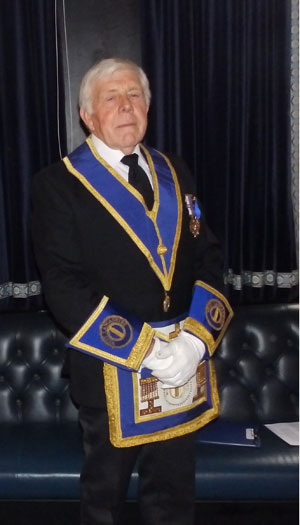 The meeting was opened by Ray Christian assisted by wardens Billy Griffiths and visiting brother, Dave Bell. As the meeting had been held on a day and date different than that stated in the lodge by-laws, The WM, on behalf of the secretary, read a dispensation allowing the meeting to be held on the evening requested. Following confirmation of the minutes of the previous meeting, Provincial deacons, Geoff Bell and Terry Forsyth retired. Ian Halsall PrDGDC was admitted to announce that Assistant Provincial Grand Master Derek Parkinson, was without and demanded admission. The brethren rose as Derek was admitted together with John James, group vice chairman, Harry White and Freddie Wright. Ray welcomed Derek on behalf of the brethren and offered him the gavel. Derek responded that he was pleased to be there for this very special meeting and accepted the gavel with obvious enthusiasm. Ian, then called the brethren to attention to salute Derek as Masons, five times. Derek thanked the brethren and greeted them well.  Derek then proceeded to talk about his reason for attending and instructed Ian to place the celebrant in a comfortable chair facing him. He then requested the inner guard to invite the tyler into the temple to enjoy the proceedings.
Derek began by reminding brethren of many of the historical events that took place from 1938, the year Ian was born, through to 1970. He talked of Ian's early years, born in Bootle, brought up in Crosby and educated at the renowned Merchant Taylors' School. After taking his O Levels, Ian joined the Alfred Holt Blue Funnel Line as he had decided he wanted to become a merchant seaman. After completing an Outward Bound Course run by the company, Ian set off to visit many countries around the world. Ian rose through the various offices to eventually gain his Master Mariner's Certificate.
Ian spent time working for various companies and even owning and operating a dredger. Ian at 59, but not yet ready to retire, found himself a job as the manager of the civilian port in Stanley, in the Falkland Islands. Remaining there for 10 years until his retirement, setting up two companies, one moving stores and sheep for the island government and one with the Ministry of Defense to provide pilot services for the Admiralty in the South Atlantic. He married in 1963 and set up home on Merseyside, He has two children and five grandchildren. He now lives in Northumberland in a house he converted himself from a farmer's cottage on farmland owned by his daughter and son-in-law.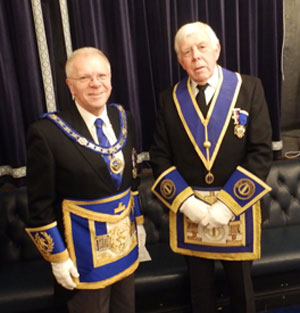 Whilst holding a land-based position in 1968, Ian was initiated into St Nicholas Lodge. Interested in Freemasonry for many years as his father had been a member of Goodacre Lodge No 2495 but by that time, had sadly passed away. Just eight years later he was installed as WM. In 1983 he received his first appointment to Provincial rank, the acting rank of PrGStwd. Finally becoming PrJGW in 1998. He was exalted into Chapter of Perseverance No 155 and installed as first principal in 1982.
Derek then asked Gladstone Group Vice Chairman John James, to read the certificate confirming Ian's 50 years in Freemasonry, which had been signed by the PrGM, Tony Harrison. Derek again congratulated Ian as he presented the certificate, and thanked him for his huge contribution to Freemasonry over the last 50 years. The brethren applauded in appreciation. Derek then relinquished the chair and handed back the gavel to Ray, who in turn thanked Derek for his excellent presentation. Following communication from Grand Lodge, Derek, accompanied by other grand officers retired. Ian was invited by Derek to retire in their company to enjoy a pre-dinner drink.
Once all other business had been completed, the lodge was closed in perfect harmony, when 23 members and guests took their seats in the dining room to enjoy an excellent meal served by the caring staff of the Artists Club. Much wine taking took place together with the many toasts. The toast to the celebrant was given by the WM, Ray. He then presented Ian with a carriage clock and a lead crystal paperweight, both inscribed appropriately. He was also presented with a 50-year lapel badge. Ian responded with lots of memories and anecdotes, again thanking Derek and all the members of St Nicholas Lodge for the wonderful gifts. Following the toast to his health, Derek was presented with a bottle of fine whisky and a bouquet of roses for his wife Joan. John James was also presented with a fine bottle of port and a bunch of flowers to pass to his wife June. Finally, the tyler's toast was given by Roger Whittaker, The end of a memorable evening for Ian and all the members and guests of St Nicholas Lodge.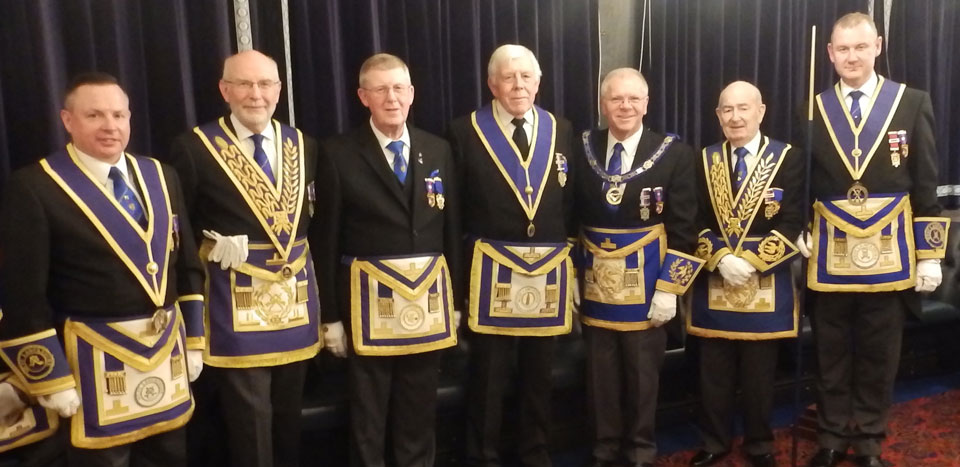 Article and photographs by Phil Marshall