An astounding 87 brethren, 26 of whom were grand officers, gathered at Garstang Masonic Hall to attend Lodge Amounderness No 7105 and celebrate Ian Cuerden's 50 years in Craft Masonry.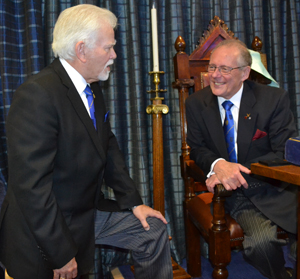 The principal guest for the evening was Assistant Provincial Grand Master David Randerson. The list of grand officers accompanying David, in no particular order, were; Peter James Hosker, John David Ogden, Barry Jameson, Thomas Blackburn, Howard Jones, William Huck, Steven PJ Reid, Bill Seddon, Anthony Bent, Stanley Oldfield, Harry Cox, Chris Band, George D Jones, Peter Hadfield, Roger Perry, Geoffrey W Saul, Stanley Rigby, Geoffrey Pritchard, Chris Butterfield, Leonard Hart, Christopher Blackwell, Robert D Smith, James Wilson, Donald Richardson, Michael Threlfall, Geoffrey Porter and Graham Halsall. As well as this merry assemblage, the Lancaster and District Group Chairman Neil Mcgill was also in attendance, together with the group vice chairman Scott Devine, the group secretary Chris Larder and four acting Provincial grand officers Jim Gregson, Paul Mason, Alan Hilton and Terry Ridal. In charge of making sure everything ran smoothly, no mean feat given the numbers present, was Provincial Deputy Grand Director of Ceremonies Barry Fitzgerald, ably assisted by Ryan Modlin.
The WM of Lodge Amounderness is none other than the celebrant of the evenings meeting Ian Cuerden. Having welcomed the principal guest and the attending grand officers, Ian proffered the gavel to David, which was gratefully accepted.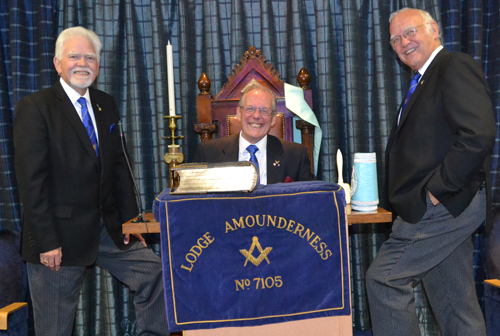 David began his address by expressing his pleasure at being invited to preside over this celebration meeting. On conclusion, David asked the PDGDC to place the celebrant before him so that he may continue his address.
After making sure Ian was sitting comfortably, David embarked on a captivating and informative deliberation on Ian's personal, professional and Masonic life. A transcript of David's address can be found by clicking here.
On the conclusion of his address, David asked the group chairman Neil McGill to read the commemorative certificate which the Provincial Grand Master Tony Harrison had caused to be issued, after which David presented the certificate to Ian and wished him the health to enjoy many more years in Freemasonry.
At the celebration banquet held in the Wyrebank Banqueting Suite Dr Kadaba Srinath Vasudev proposed a marvellously amusing and well-crafted toast to the health of Ian which was met with great acclaim from everyone and was followed by a rather special version of the Master's Song, rewritten as 'Drink to his health', performed by John Kay and accompanied by David Tattersall.
Ian responded in his usual self-effacing manner with many amusing anecdotes before thanking everyone for making the occasion such a really special and unforgettable experience.
A raffle was held during the festive board which raised £462.50p. A very pleasant evening and an excellent meal was enjoyed by all.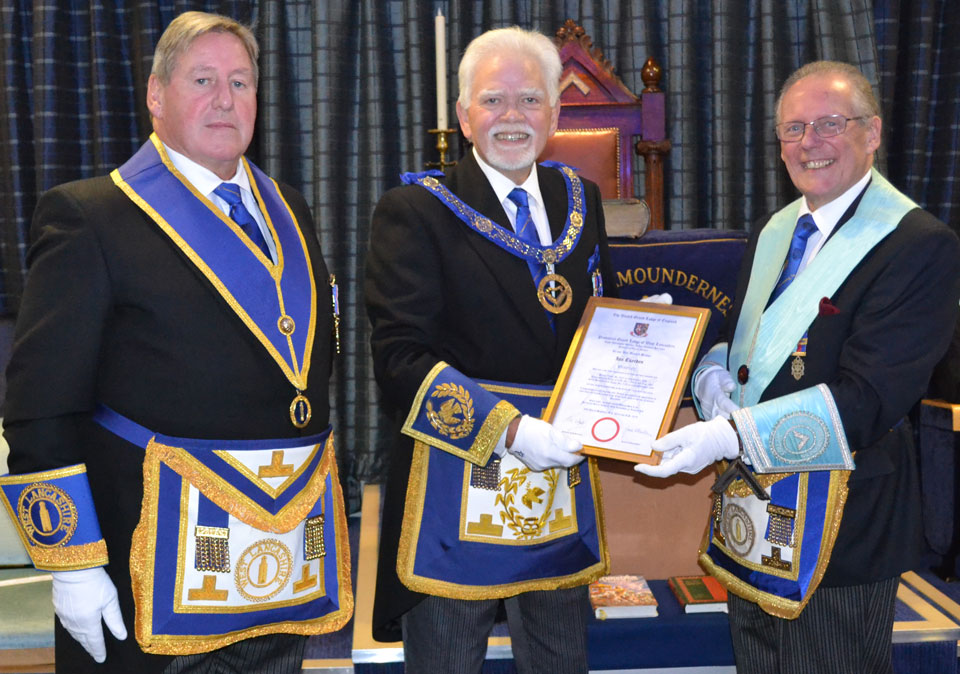 Article and photographs by Paul Thompson