Heysham Chapter No 4108 held its installation convocation which was attended by Provincial Grand Scribe Nehemiah Harry Chatfield, representing the Grand Superintendent Tony Harrison.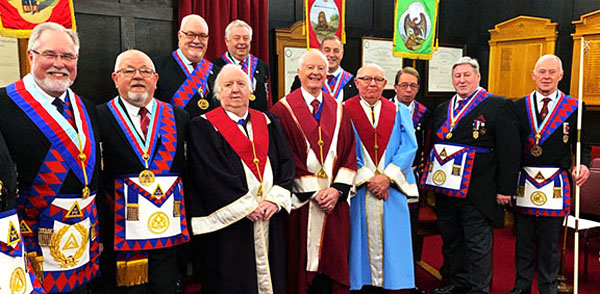 Harry was accompanied by grand officer Phil Gardner and acting Provincial grand officers Provincial Assistant Grand Director of Ceremonies Paul Fuery, Provincial Deputy Grand Registrar George Fox, Provincial Grand Stewards Chris Brown and Alan Hilton, along with Lancaster Group Chairman Neil McGill, group vice chairman Scott Devine and group secretary Chris Larder.
The chapter was opened by first principal Brian Warrington, second principal Ray Griffiths and third principal Alan Herron. Due to illness of both the director and assistant director of ceremonies, David Tattersall stood in at short notice and proceeded to present Allan Finney for installation as third principal, Alan Herron as second principal and Ray Griffiths as first principal.
The robe addresses were given to the third principal by Ken Needham, to the second principal by Alan Gregory and to the first principal by Trevor Duncan. Harry Chatfield gave the addresses to the first principal and the Heysham Chapter companions. Charitable cheques to the value of £330 were presented to Harry.
Prior to the closing of the chapter, Phil Gardner presented Brian Warrington with a past principal's jewel that had been formerly worn by the late Tom Holroyd.