Roger Watkinson celebrated 50 years in Freemasonry during a splendid evening at Southport Masonic Hall, presided over by Assistant Provincial Grand Master Frank Umbers. A sizable gathering listened to Frank roll out the story of Roger's life.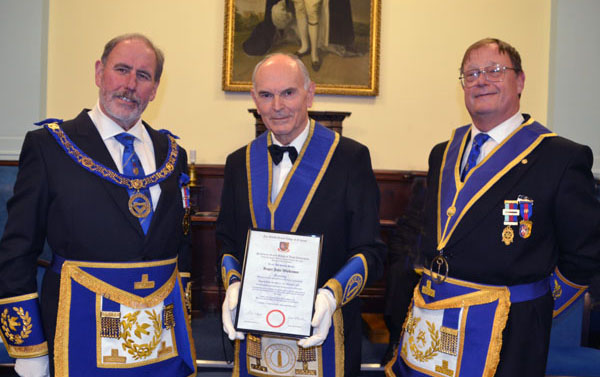 On 17 November 1970, Roger was initiated into Victoria Lodge No 2360. He quickly became the lodge organist, and was WM in 1987. He was in much demand for his musical prowess and was also the organist for Southport Lodge No 4034, County Palatine Lodge No 2505 and St George's Lodge of Unity No 32. He is also heavily involved in another Masonic Order and has achieved a very high rank.
In 1993 Roger became Provincial Grand Organist. He always played with a sense of humour when someone with a job, or name, that could be associated with a tune he would play it gently in the background when they were taking part in the ceremony. He was a church organist teacher, band leader, bass player and pit musician, so apart from his Masonic work, you could say that Roger had several strings to his bow! From the age of 10, taking piano lessons to now, music has been Roger's life and we have all benefitted from it.
He is happily married to Christine and they currently have five grandchildren, his three children are all involved in music on a part time basis.
Having concluded his presentation of Roger's life, Frank called upon Neil Latham, Chairman of the Southport Group, to read the certificate from the Provincial Grand Master Tony Harrison, to commemorate his 50 years in Freemasonry. This was then presented to Roger before he resumed his seat in the lodge.
With the remainder of the lodge business dispatched the brethren retired to the banqueting suite for an enjoyable festive board.