Having served the lodge diligently for over 40 years, but then relocating to Rutland, Harthill Lodge No 8443 were delighted to welcome back George Samuel Hudson to celebrate his 50 years in Freemasonry. The evening, which was held at Garston Masonic Hall, afforded the brethren of the lodge an opportunity to welcome George back, some four years after his appointment as an honorary member, in recognition of those many years of service.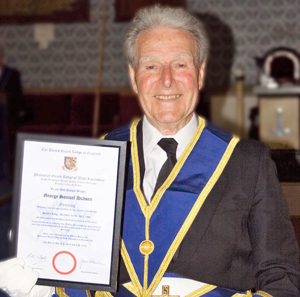 Acting WM Jim Gwyther opened the lodge, before Provincial Deputy Grand Director of Ceremonies Jason Dell announced that Assistant Provincial Grand Master Derek John Parkinson was without and demanded admission. Derek was accompanied by the Garston Group Chairman John Murphy and fellow grand officer Howard Griffiths. Jim duly welcomed Derek and the other distinguished brethren before offering him the gavel, which on this particular evening, he was pleased to accept and so occupied the master's chair.
Derek began his customary comprehensively researched tribute by saying: "One of the benefits of holding a senior position in the Province is the opportunity to celebrate with a brother as he reaches a milestone in his Masonic career. Tonight, we are here to celebrate 50 years with George Hudson and so could I ask the PrDGDC to place our celebrant before me."
Derek began by saying he intended to use periods of George's life to highlight events between his birth on 2 November 1929 and his initiation into Freemasonry, which he hoped would prove both interesting and informative.
As the calendar approached 1930, it heralded the end of the decade that has gone down in history as  'The Roaring Twenties', which saw new styles of dressing and dancing and a time of total self-indulgence, but all that came to an end on the 29 October 1929 on 'Black Tuesday', the day of the Wall Street crash, when the world entered the 'Great Depression'. Derek added, that almost 90 years later we see the worldwide economy in a similar fragile state.
On a lighter note. George shared a birthday with two notable people; Burt Lancaster, the film actor born in 1913 and John Sainsbury the founder of the supermarket chain, born in 1927.
Moving on to 1934, Derek mentioned two very different but significant events, the completion of the Queensway Tunnel in Liverpool and an order by Goering for the dissolution of all Freemason's lodges, whereby Freemasonry had to go undercover in Germany until after the end of the Second World War.
Moving on to George's personal life, Derek informed his audience that George was born in Liverpool and at the time his parents were living in Swallowhurst Crescent on the West Derby side of Norris Green. His mother Elsie Maud was working for a bookmaker as secretary and manager, while his father, Samuel, was a foreman lighterman on the barges.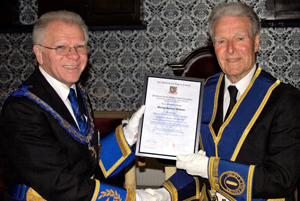 George attended Ellergreen Road School and was the 'top boy' in the school when he left at 16 years of age to start work as an electrical contractor. He continued his education at the Old Swan Technical College and at night school at Riverside Tech, passing his final qualifications with a City and Guilds in electronics. Later, George moved to Eric Bemrose Printers, where he remained until his retirement.
In November 1950 George received his call up papers and reported to Elgin in Scotland to join the Royal Engineers, before being transferred to the 3rd Training Regiment Royal Engineers, known for short as 3 T.R.R.E., as a candidate for training as a potential Non-Commissioned Officer. In April 1951 he began his posting in El Balla in Egypt and found himself as NCO in charge of the armoury in Fayid.
In the early 1950's, George met Eileen and married in September 1955, almost 64 years ago. They have three children, Pamela, Michael and Glynis. Michael has two sons, Matthew and Sam and Glynis one son Andrew. George and Eileen also have three grandsons.
Because Eileen had suffered from ill health for many years, they decided three years ago, to move from Liverpool to Rutland, so as to be nearer to their daughter Pamela, who lives about 10 minutes away from them by car.
Moving on to his Masonic career, George was initiated into Prince's Park No 4769 on 8 April 1969. The lodge was meeting at Carlton Masonic Hall in Eberle Street. He was proposed and seconded for membership of the lodge by his uncle Tom Burt and brother-in-law Harry McCombe.
When Tom and Harry became founders of Harthill Lodge, it was a natural consequence that George would join the lodge as its first joining member on Thursday 13 March 1973.  George was installed as WM in 1982 and again in 2001. During his time as a member of the lodge, he has been secretary for 18 years and director of ceremonies for six years, as well as short periods as assistant secretary and ADC. Adding to this list, he has also been group representative for 19 years and during the same period, the group bowls representative.
In 1990, George received his first Provincial rank, as Past Provincial Senior Grand Deacon and in recognition of the many years serving the lodge and the group he received further promotion in 1998 to the high rank of Past Provincial Junior Grand Warden.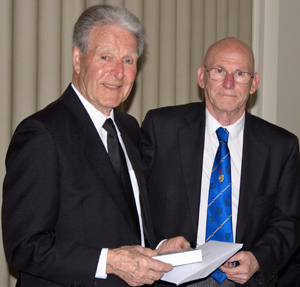 Derek then called on group chairman John Murphy to read the jubilee certificate. In presenting the certificate Derek said, "George, you have contributed to Freemasonry in this lodge and this group over the last 50 years and have certainly got great pleasure and enjoyment from it and so it is a great honour and a privilege to say to you, George, thank you for all that you have done for Freemasonry, congratulations on achieving 50 years as a Freemason and we all look forward to seeing you enjoy many more years as a member of this great order".
At the conclusion of the ceremony and after the presentation of the jubilee certificate, George paid tribute to the lodge brethren for their determination in maintaining the lodge, enabling him to celebrate this very special occasion here at Harthill Lodge.
With the honoured guests and the celebrant having retired, the remaining routine business was promptly dealt with and the lodge closed to enable the brethren to gather in the dining room for dinner and further celebrate with George.
Lodge secretary Ken Bullen then proposed the toast to George, saying he had set an example as a man, a friend and a Freemason. Ken continued by saying that every single member of the lodge had at one time or another benefited from George's wise council. In recognition of his popularity and to help make the evening even more memorable, the WM presented George with a gift from the brethren of a miniature set of working tools.
In responding to the toast to his health and the presentation, George once again expressed his thanks and regaled the brethren with stories of his early years within the Craft. He stated that at one time he thought we learned our ritual by listening at lodge meetings. Only later realising that his proposer and seconder had failed to give him 'that little black book'.
With the final toast, the evening's celebrations, which had been superbly managed by Jason, were brought to a close and celebrant George departed filled with happy memories of his return to Harthill Lodge.