One of the important messages in Freemasonry, is to enjoy and take delight in your membership of this wonderful Order. It is one which first principal Michael Melling takes to heart and wishes that each companion and visitor enjoy their time at Sacred Delta Chapter No 216, that they actively look forward to the next meeting.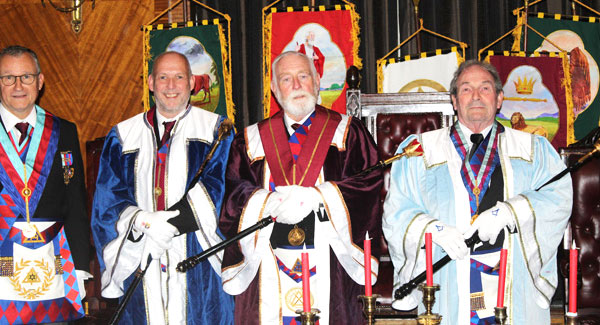 The companions and visitors were gathered at the Britannia Adelphi Hotel, Liverpool, for the occasion of the installation meeting of the chapter. Having assembled, the companions were called to order and the three principals; first principal Michael Melling, accompanied by Mike Fox, who was standing in for Ian Elsby as second principal, and David Jones as third principal, opened the chapter in solemn form.
Derek Hughson acting as director of ceremonies, announced that Ian Sanderson, Assistant to the Provincial Grand Principals, accompanied by Gladstone Group Vice Chairman Matt Casson, stood without. Michael announced that the chapter would be honoured to receive them and they were admitted into the chapter.
Having been formally introduced, Michael expressed a wish to Ian and Matt, that they enjoy the installation ceremony and the festive board that was to follow. The appointment of officers was a speedy affair, as many officers had unfortunately tested positive for Covid and so couldn't attend, as a result the installation was completed in rapid fashion. Ian Sanderson remarking that it was probably the quickest installation ceremony he had seen for some time!
With the installation ceremony completed and following congratulations to the principals from Ian, the chapter was duly closed in due form and the companions retired to the Crompton Dining Room for the festive board.

Sacred Delta is a happy chapter, and this was very much in evidence throughout the festive board, Ian Sanderson, commenting on the happy and convivial atmosphere of the companions, congratulated the chapter on a successful installation meeting. In response to the toast to the three principals, first principal Michael Melling, thanked Ian and Matt for their attendance and explained to the companions and guests that he was very much looking forward to the next meeting of the chapter, and the exaltation of a new companion.
Michael explaining that he hoped that everyone enjoyed their time at the meeting and that they too would be looking forward to the next meeting and hark back to the chapter. The speech was met with much applause, and we look forward to hearing about the next meeting in the long history of Sacred Delta Chapter.