We all know the importance of having a good Masonic home to practice our Craft and meet together socially in the right surroundings. 'Hall together' is a new initiative at the Bryn Masonic Hall to generate funds for the maintenance of the building, keeping it all ship-shape, well equipped and a pleasure to attend.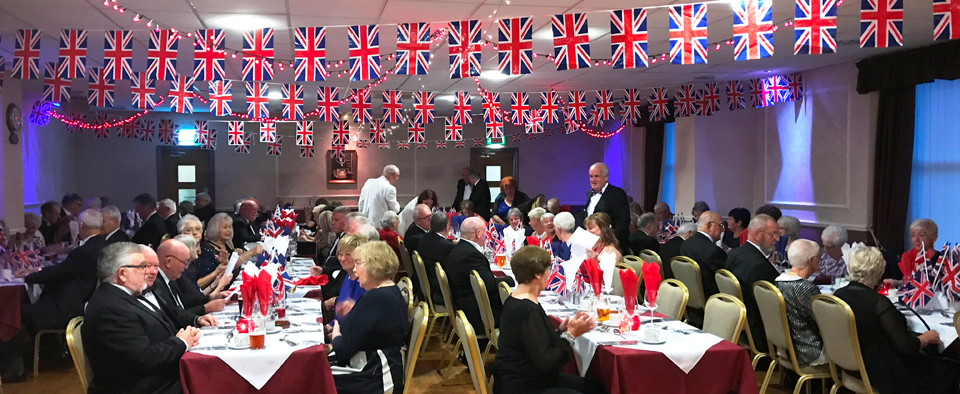 Christine and Phil Hughes, caterer and steward are passionate about their jobs and for decades their dedication to the hall has been evident for all to see. Together with the group, and particularly vice chairman John Selley, they have organised a number of social events under the 'Hall together' brand, opening events to all lodges, chapters and other Masonic Orders that use the hall. This coming together ticks more boxes than just raising funds. The first event, 'Last night at the Proms', was an overwhelming success, raising £1,270.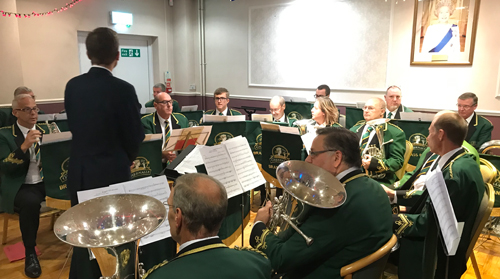 With the hall decorated in union flags, 120 exited diners sat down to a seven-course meal before being entertained by the Greenalls Brass Band. After their first session of rousing marches and well-known tunes expertly arranged there was a raffle draw, with prizes including a fire pit and bubbly, Sunday lunch for six, and afternoon tea for four at the famous Cloud 23 at the Hilton Hotel, Manchester.
The second session was a replica of the famous last night of the Proms. All the favourites were played, and the entire ensemble joined in the customary flag waving, bobbing and singing, rising to a crescendo with the final rendition of land of hope and glory.What a great idea, and what a fine way to look after the hall.