An unfortunate cloudy afternoon did not stop the smiles, laughter and enjoyment of the annual Carnarvon Lodge No 2376 BBQ, hosted at Mick Norris's home. Mick and his wife Barbara kindly invited over 70 people into their garden for a fantastic BBQ to help raise money for local charities which will be announced at their installation in December.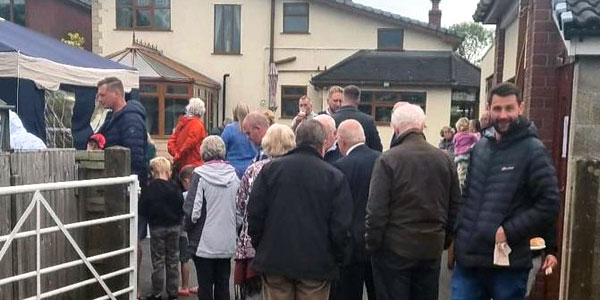 The day was much a group effort from Carnarvon Lodge members and also other Masons who came to help out with the erecting of the large marque before the event to keep guests safe from wind, sun or rain, rain in this case.
A special thank you goes to the resident head chef Graham Roberts who did a fantastic job cooking all the food over three BBQs with help from Philip Kavanagh, along with Mick Norris showing everyone how to cook pizza properly in his outdoor pizza oven. Also, thanks to David Robinson who manned the fully stocked bar, which even had its own cask pump.
After everyone had enjoyed the amazing food served there were a large range of splendid desserts that had been made by a handful of the guests, members and their wives.
Despite the bad weather, everyone had a great day and a fantastic total of £487 was raised from the ticket sales and raffle prizes, of which there were many and all donated by guests and members of Carnarvon Lodge.
Carnarvon Lodge are a fun and active lodge with another social event organised for November 2023 at Preston Masonic Hall. Full details are to be shared out soon, but they hope to see as many there as possible.