Graham Taylor was installed as WM of Torrisholme Lodge No 5245 in November in the presence of Provincial Senior Grand Warden Daniel Crossley who was representing the Provincial Grand Master.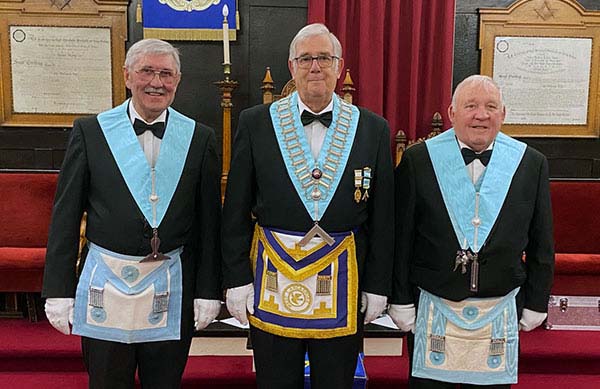 Daniel was accompanied by Paul Broadley; Ken Needham, Joe Crabtree, Gordon Evans, Lancaster and District Group Chairman Neil McGill and group secretary Chris Larder.
Graham was born in London and was originally a banker before joining the police force. Graham joined Bromfield Lodge No 4233 in Wales and was installed as WM in 1997. On moving to Lancashire, he was introduced to Torrisholme Lodge by John Bates and was installed as WM in 2015.
Graham initiated his son Jonathan as a member of Torrisholme Lodge but regrettably Jonathan predeceased him. Graham has a daughter who lives in Kendal and he does a lot of work in the local community.
As is the custom at Torrisholme Lodge, Bryan Cambidge a past master from Morecambe Lodge No 1561 was invited to act as installing senior warden; master of Heysham Lodge No 4108 Barry Robinson was installing junior warden and acting master of Poulton le Sands Lodge No 1051 Stewart McVernon was installing inner guard. Graham was presented for installation by Chris Dent. Prior to closing the board of installing masters, Brian Dewhurst presented the working tools of an installed master.
The third degree working tools were presented by Ben Gregg: those of the second degree by Gareth Evans and those of the first degree by Steven Brown. Graham appointed David Tarbun as senior warden and John Hayes as junior warden.
The address to the master was given by Alan Flack and the address to the wardens was given by Paul Dent. Dan Crossley gave the address to the brethren of the lodge.
The organist was David Tattersall and the master's song was performed by George Fox. A raffle held at the festive board raised £211 for charity.